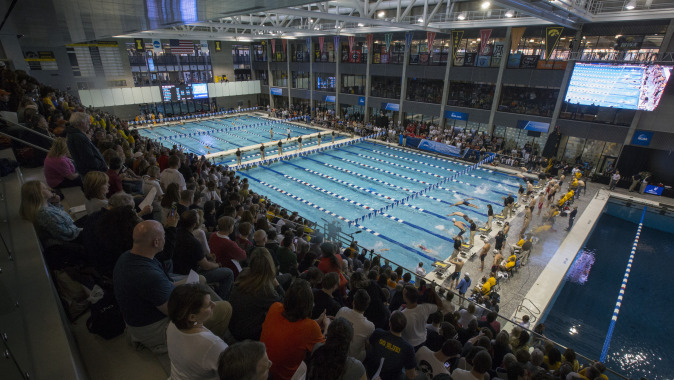 March 7, 2016
IOWA CITY, Iowa — Registration is open for the 2016 Hawkeye Swim Camps and Iowa Diving Camps.
There will be two sessions of the Hawkeye Swim Camps with the week one session going from June 12-16; the second week will take place from June 19-23. The cost is $425 for a commuter and $565 for a residential camper.
The camp will be held in the state-of-the-art Campus Recreation and Wellness Center Natatorium — a venue slated to host the 2017 USA Swimming Winter Junior National Championships. Campers will have two to three drill and training sessions per day, along with dryland training.
Each camper will have the opportunity to work directly with UI head coach Marc Long and the Hawkeye swimming and diving coaching staff and UI strength and conditioning staff. Campers will receive a DVD of themselves swimming all four strokes.
The Iowa Diving Camp is a residential camp that will take place from June 26-30. The cost is $575 and is open to kids ages 12-18.
UI diving coach Todd Waikel, a 2013 World Championship Coach and 2015 Pan American Game Coach for Team USA, will put on the camp designed divers looking for extra training time for skill improvement.
For more information or to register for either camp, visit: www.iowasportscamps.com.