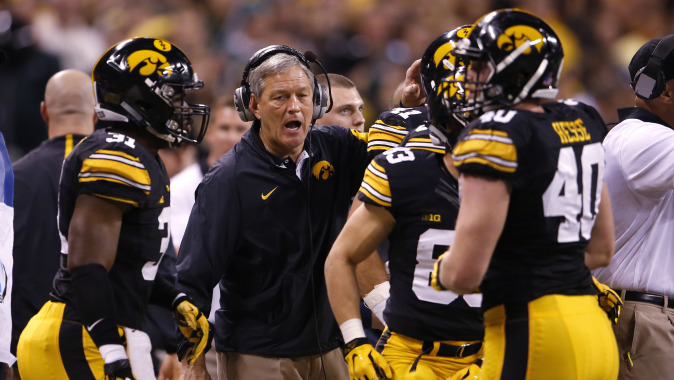 March 8, 2016
IOWA CITY, Iowa — The University of Iowa football coaching staff will conduct the Iowa Hawkeye Football Coaches Clinic Friday and Saturday, March 25-26, in conjunction with the opening of spring practice. The keynote speaker is Tom Moore, assistant head coach of the Arizona Cardinals.
Moore, a former Iowa player and coach, has 38 years of NFL coaching experience, including the last three seasons with Arizona. During his NFL career, Moore has been with teams that have made 24 playoff appearances and four Super Bowl appearances while earning three Super Bowl titles.
As an offensive coordinator, Moore coached Peyton Manning for 13 seasons, with Manning earning four of his five MVP awards while being coached by Moore. Moore was a member of the Pittsburgh Steelers staff for 13 seasons and is a member of the Pennsylvania Sports Hall of Fame. He is also a member of the Rochester, Minnesota, Sports Hall of Fame, where he attended high school before earning his degree from Iowa.
Moore began his coaching career at Iowa in 1961 after lettering for the Hawkeyes in 1959 and 1960. He has been a college or professional football coach for 51 seasons.
The clinic will feature Iowa head coach Kirk Ferentz and all members of the Hawkeye coaching staff, along with high school coaches from the state of Iowa and the midwest.
Clinic sessions will be held at the Marriott Hotel and Convention Center in Coralville, and at the UI football facilities on campus. Registration begins at 10 a.m. Friday, March 25 at the Marriott, with the opening session slated for 11 a.m. Five coaching sessions will be held at the Marriott on Friday. Further information is available at www.hawkeyefbcamp.com. Session Two begins at 12:05 p.m. at the Marriott and features Iowa coordinators Greg Davis and Phil Parker, along with running backs and special teams coach Chris White.
A box lunch will be served at the Marriott beginning at 2 p.m., with on-field demonstrations to follow at 4:45 p.m. The on-field demonstrations will feature Iowa assistant coaches Brian Ferentz, Bobby Kennedy, Reese Morgan, Seth Wallace, and LeVar Woods.
Ferentz will address all camp attendees just before Moore is featured as the keynote speaker. Friday's activities conclude with distinguished service awards presentations and breakout talks featuring the Iowa coaching staff.
Saturday registration will be held from 8 a.m. to 9 a.m. at the UI indoor practice facility. A strength and conditioning demonstration with Chris Doyle and his Iowa staff will take place at 9:10 a.m. before Iowa's spring practice at 10:30 a.m. in Kinnick Stadium.
For further information, coaches can contact Ben Hansen or Terry Armstrong (319-335-8943) at the Iowa football offices.
Iowa begins spring practice on Wednesday, March 23, with the final spring practice, open to the public, on Saturday, April 23, in Kinnick Stadium. The Hawkeyes posted a perfect 12-0 regular season record in 2015 while winning the Big Ten West Division title and earning a spot in the 2016 Rose Bowl.
Iowa opens the 2016 season with three straight home games, hosting Miami, Ohio (Sept. 3), Iowa State (Sept. 10) and North Dakota State (Sept. 17).