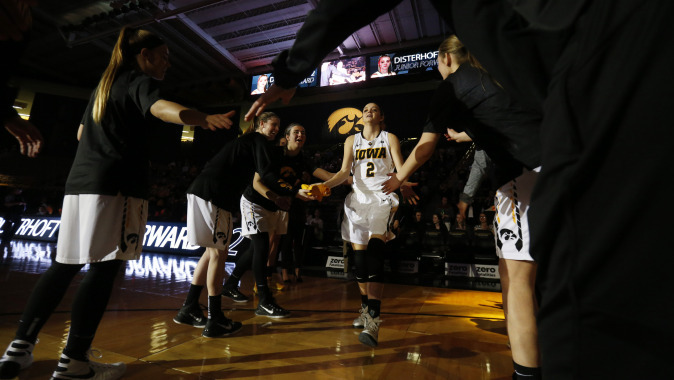 March 13, 2016
Editor's Note: The following first appeared in the University of Iowa's Hawk Talk Daily, an e-newsletter that offers a daily look at the Iowa Hawkeyes, delivered free each morning to thousands of fans of the Hawkeyes worldwide. To receive daily news from the Iowa Hawkeyes, sign up HERE.
By JIL PRICE
IOWA CITY, Iowa — Class, practice, homework. Repeat. Being successful on and off the court takes balance and University of Iowa junior Ally Disterhoft has mastered it.
The Iowa City, Iowa, native leads the Iowa women's basketball team in scoring, averaging 17.1 points per game. Disterhoft is a two-time second-team All-Big Ten selection, has scored in double figures in every game of the season, and played in every game of her Hawkeye career. She is 11th in school history in scoring, 13th in 3-point field goals, and 18th all-time in rebounding with postseason and her senior campaign remaining.
Disterhoft, a business major with a focus in accounting, is just as accomplished in the classroom. She is a two-time College Sports Information Directors of America (CoSIDA) Academic All-American, garnering first team accolades this year and third team recognition last season — the lone sophomore to earn Academic All-America status. Disterhoft possesses the highest grade point average (4.03) of all Academic All-Americans and is the youngest student-athlete to earn first-team distinction this year.
CoSIDA also gave her its most prestigious academic honor, recognizing her as the 2015-16 Academic All-America of the Year recipient.
"It was a huge surprise," Disterhoft said of earning the award. "Coach Bluder announced it to the team on our bus on the way to our first Big Ten Tournament game against Michigan.
"It is a great feeling to know that your hard work pays off. I put in a lot of work in to both academics and athletics. I take a lot of pride in what I do in the classroom, so it is an enormous honor."
Disterhoft is one of many successful student-athletes to come through the women's basketball program, and 16th-year UI head coach Lisa Bluder says success in the classroom will always be a priority for the Hawkeyes.
"It's a great honor for Ally and I'm so happy for her," Bluder said. "Success in the classroom and on the court is what she has been striving to achieve. That's what Iowa women's basketball is all about.
"Last year, we were the only school in the nation to have two Academic All-Americans with Samantha Logic and Ally, and we were the only team to have a sophomore named Academic All-American with Ally. This is a wonderful honor for Ally, and it's very reflective of what our program stands for."
Academics have always been a priority for Disterhoft, but she credits upperclassmen like Logic and her Hawkeye teammates for her continued success.
"Athletics success has always been a priority here at Iowa, but I've also been privileged to be around girls who care about excelling in the classroom," Disterhoft said. "Sam is the perfect example of that. I remember as a freshman and sophomore, watching her study on the plane and in the hotel to get her stuff done. That was encouraging to see, and that's not just Sam. That's our team, too, and when you're in that setting it promotes hard work."
Iowa, one of 10 teams to make the last eight NCAA Tournaments, will learn its postseason fate on Monday, March 14 at 6 p.m. (CT). The Selection Show will be broadcast live on ESPN.