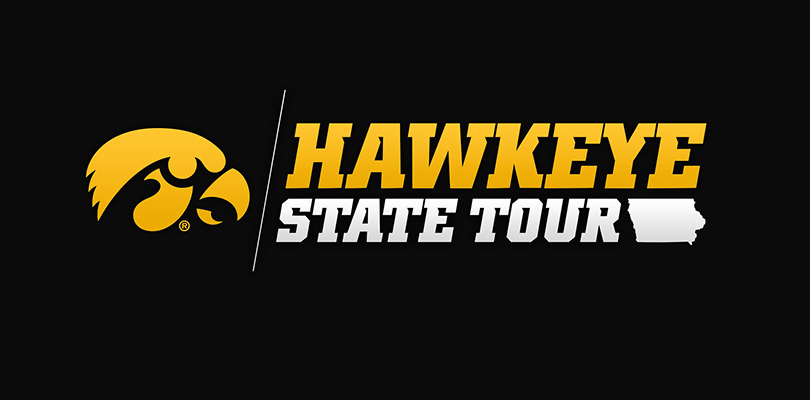 March 17, 2016
IOWA CITY, Iowa — The University of Iowa Department of Intercollegiate Athletics has announced the dates and locations of the 2016 Hawkeye State Tour, which features Hawkeye coaches and student-athletes in its annual statewide outreach tour.
Over the last four decades, Hawkeye coaching legends such as Hayden Fry, Dan Gable, C. Vivian Stringer, and Tom Davis have traveled the state on the UI's annual outreach tour–hosted by the I-Club–to connect with fans, alumni, ticket buyers, and donors throughout the Hawkeye State.
"We are pleased to continue our 40-year tradition of community outreach," said Gary Barta, director of athletics at the University of Iowa. "This is a great opportunity for our coaches and student-athletes to travel across the state to meet with fans in Iowa communities and thank them for their incredible support."
This year's tour will feature a panel of select Hawkeye coaches, including Lisa Bluder, Tom Brands, Kirk Ferentz, and Fran McCaffery, as well as student-athletes, assistant coaches, Herky the Hawk, the UI spirit squads, and Gary Dolphin, the voice of the Hawkeyes.
The tour begins April 12 in Des Moines and features 12 stops before concluding in Okoboji on June 15.
April 12: Des Moines
May 2: Sioux City
May 3: Washington
May 9: Mason City/Clear Lake
May 10: Marshalltown
May 10: Quad Cities
May 11: Iowa Falls
May 12: Carroll
May 12: Burlington
May 19: Dubuque
June 15: Okoboji
TBD: Cedar Rapids
"The Hawkeye State Tour allows us to continue to reach the entire state–from the Mississippi to the Missouri–thanking our fans and contributors for their support," said Matt Henderson, UI senior associate athletics director.
"Spreading out the schedule of travel to these communities will allow our coaches and student-athletes to maintain a competitive edge with their rigorous training schedules and a growing recruitment calendar while still having the opportunity to travel the state of Iowa to meet fans and supporters."
The Hawkeye State Tour is open to fans of all ages. Tour stops will include a coaches' panel, photo opportunities, access to coaches and student-athletes, door prizes, and more. For additional information about the Hawkeye State Tour and to register for a location near you, visit hawkeyestatetour.com. For more information on the I-Club, visit jointheiclub.com. The I-Club is the University of Iowa's annual fundraising program for intercollegiate athletics. Annual gifts of $50 or more support the complete student-athlete experience for Our Hawkeyes.