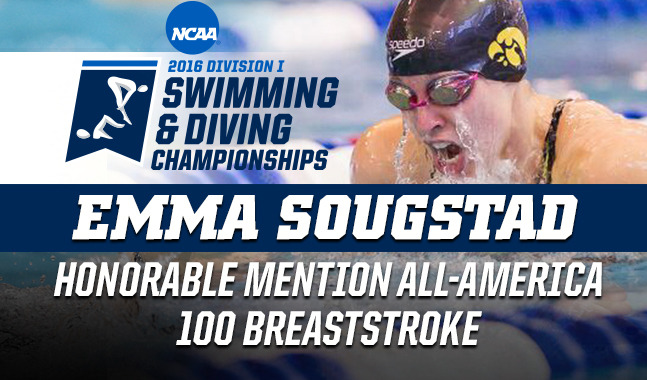 March 18, 2016
ATLANTA — University of Iowa junior Emma Sougstad garnered honorable mention All-America honors in the 100-yard breast stroke Friday at the 2016 NCAA Women's Swimming and Diving Championships. It is the first All-America distinction of her career.
The Forest City, Iowa, native finished ninth in Friday night's "B" final with a school record time of 59.00 seconds. She held the previous record at 59.22. Sougstad earned a second swim during the morning prelims, touching out in 59.58 seconds for the ninth-fastest time in the 49-swimmer field.
It is the second consecutive year Iowa has had a student-athlete garner All-America honors. Becky Stoughton was an honorable mention All-American in the 500 and 1,650 free in 2015.
The Hawkeyes wrap up the 2016 NCAA Championships on Saturday. Sougstad will compete in the 200 breaststroke, while juniors Calli Head and Lydia Lehnert will dive off the platform. Prelims begin at 9 a.m. (CT).