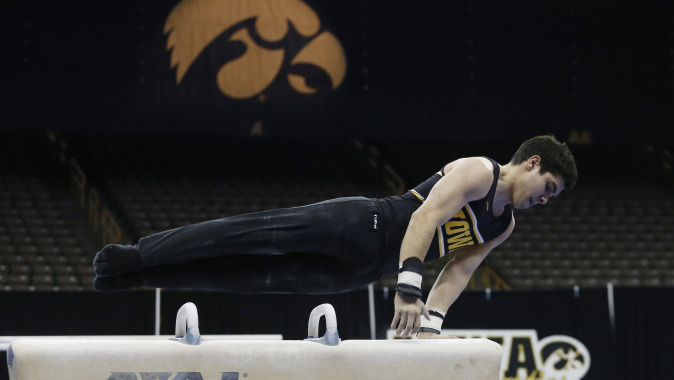 March 20, 2016
Complete Results

By JACK ROSSI
LINCOLN, Nebraska — In the regular season finale, the University of Iowa men's gymnastics team competed in its closest competition of the season, tying No. 7 Nebraska for second (432.450) and falling to No. 4 Minnesota (433.850).
"They did a great job at the meet," head coach JD Reive said. "We failed to capitalize on our opportunities, but what was shown was that the Big Ten conference is going to be a battle to the end. We're prepared, we're doing great gymnastics and we need to execute.
The Hawkeyes began the competition on parallel bars, where senior Matt Loochtan placed fifth with a score of 14.650. Senior Cyrus Dobre-Mofid followed in eighth place with a 14.450 effort. Senior Jack Boyle and freshman Jake Brodarzon tied for 10th with scores of 14.150.
Boyle won Iowa's first event title of the afternoon, placing first on high bar in the second rotation with a score of 14.900. Sophomore Austin Hodges set a career-high on the event, posting a 14.450, while Loochtan landed a 14.400 for sixth place overall.
Iowa set a season-high on floor exercise during the third rotation with a 74.650. Loochtan tied his own school record, recording a 15.650 to tie for second overall. Sophomore Dylan Ellsworth tied for ninth overall, posting a 14.850, and junior Mark Springett placed 12th, tallying a 14.800.
At the halfway point, Iowa held a lead of 0.250 over Minnesota and 2.250 over Nebraska.
The Hawkeyes gave up the lead after a supbar performance on pommel horse, when they scored a 68.900, the lowest score of the meet. Senior Doug Sullivan finished fourth on the event with a score of 14.750. Senior Del Vecchio Orozco placed eighth with a 13.950 effort, and senior Emmanuel Monroy finished 12th with a 13.500 score.
The Hawkeyes made up ground on rings. Boyle and Loochtan led the Hawkeyes, tying for third overall with scores of 14.850. Springett set a career-high on rings, posting a score of 14.700 for fifth overall.
Heading to the final rotation, Iowa was looking to find their way out of the third place spot. The Hawkeyes started off well with a 15.000 from Loochtan who tied for second overall. Junior Andrew Botto placed eighth, recording a score of 14.700, while Springett's 14.600 tied for ninth overall.
Loochtan used a career-high score of 87.700 to claim the all-around title, while Boyle finished third with an 85.500 effort.
"The leadership is certainly doing their role," Reive said. "But we still don't have a consistent lineup. We are still showing end of season depth and that is showing how good this team really is. We have two more opportunities to put that out on the floor and do what we know we are capable of."
The Hawkeyes begin postseason action at the 2016 Big Ten Championships on April 1-2 in Columbus, Ohio.