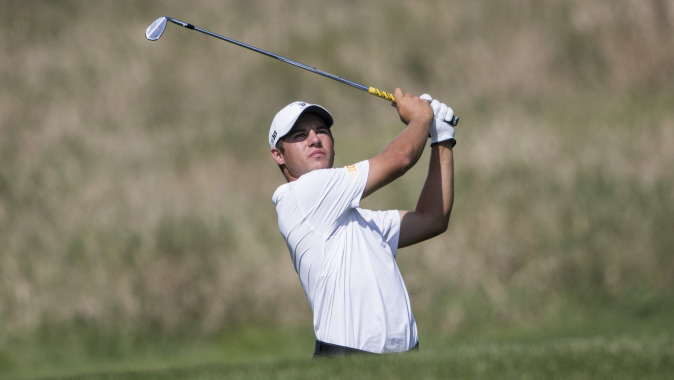 March 20, 2016
Final Results

STATESBORO, Ga. — The University of Iowa men's golf team concluded play at the annual Schenkel Invitational on Sunday afternoon with a third round total of 287 (-1). The Hawkeyes finished 12th at the three-day event, which was played at Forest Heights Country Club, posting an 856 (-8; 279, 290, 287).
Led by tournament medalist Will Gordon who carded a three-round 203 (-13; 67, 73, 63), Vanderbilt captured the team title after a third round 269 (-19) vaulted them from third to first. The Commodores ended the three-day event at 823 (-41; 274, 280, 269).
Juniors Raymond Knoll and Carson Schaake were Iowa's top finishers. Knoll and Schaake each tied for 37th individually after both carded 54-hole totals of 214 (-2). Knoll was consistent throughout the three-day tournament, posting rounds of 70, 73, and 71. Schaake carded his best 18-hole score of the weekend and Iowa's lowest round of the day in Sunday's third round. He made par or better on 15 holes, including seven birdies, on his way to a two-under-par 68.
Following first and second round totals of 66 (-6) and 76 (+4), senior Nate Yankovich posted a two-over-par 74 in Sunday's final round. Yankovich tied for 47th at 216 (E).
Freshman Matthew Walker also carded a two-over-par 74 in Sunday's final round, extending his overall total to 219 (+3; 75, 70, 74). Walker ended the three-day event in a tie for 57th on the individual leaderboard.
Sophomore Sam Meuret finished one stroke behind Walker to tie for 61st. Competing in his first stroke play event of the spring, Meuret finished with a 54-hole total of 220 (+4; 72, 72, 76)
Competing as an individual, freshman Aaron DeNucci finished the weekend with a three-round 222 (+6; 74, 72, 76), his best 54-hole score of the year. DeNucci tied for 66th, respectively.
The Hawkeyes return to action on April 2-3 for the ASU Thunderbird Invitational in Tempe, Arizona.