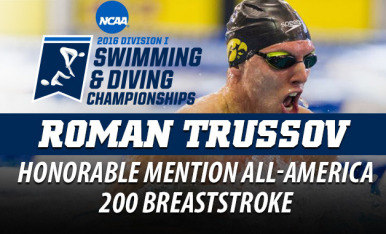 March 26, 2016
ATLANTA — University of Iowa senior Roman Trussov garnered his second honorable mention All-America honor Saturday on the final day of the 2016 NCAA Men's Swimming and Diving Championships at the McAuley Aquatic Center.
The Kazakhstan native finished 13th in Saturday night's "B" final in the 200-yard breaststroke with a time of 1:55.24. Trussov earned a second swim and cemented his All-America distinction by finishing with a time of 1:55.36 for the 15th-fastest time in the 41-swimmer field.
Trussov earned his first honorable mention All-America accolade in the 100 breaststroke Friday. He is the first Hawkeye since 2013 (Grant Betulius, Andrew Marciniak, Byron Butler, and Jordan Huff) to earn multiple All-America distinctions.
Iowa also got an 18th place finish from senior Addison Boschult off the platform with a score of 356.65. The Omaha, Nebraska, native was two points shy of being in the top 16 and earning honorable mention All-America honors for a second straight season.
The Hawkeyes finished 40th in the team standings with 6 points.