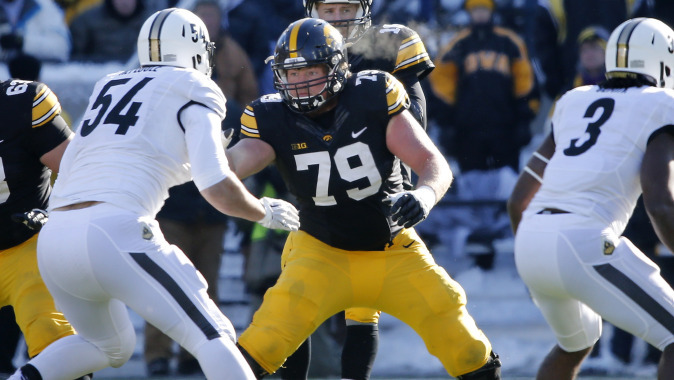 March 27, 2016
Editor's Note: The following first appeared in the University of Iowa's Hawk Talk Daily, an e-newsletter that offers a daily look at the Iowa Hawkeyes, delivered free each morning to thousands of fans of the Hawkeyes worldwide. To receive daily news from the Iowa Hawkeyes, sign up HERE.
By DARREN MILLER
hawkeyesports.com
IOWA CITY, Iowa — Kirk Ferentz paused midway through his opening news conference of spring football. He tried to avoid comparing junior-to-be offensive lineman Sean Welsh to a Hawkeye great and an NFL All-Pro.
But he couldn't be restrained.
"I hate to throw this out, because I don't want to start this train going," Ferentz told a group of media March 22 in the Stew and LeNore Hansen Football Performance Center.
Then the words came seeping out:
"But Marshal comes to mind."
Marshal is Marshal Yanda, a five-time NFL All-Pro, team MVP, and Super Bowl champion for the Baltimore Ravens. Welsh, a 6-foot-3, 288-pounder from Springboro, Ohio, is preparing for his fourth season as a Hawkeye. As a redshirt freshman in 2014, he started seven times at left guard and twice at right guard. Last season he started 12 games at left guard and twice at right tackle.
Ferentz not only called Welsh the team's most versatile lineman, but after breaking down film each week, Welsh consistently graded out near the top of the class.
Like Welsh, Yanda filled in where needed when he terrorized opposing defensive linemen in 2005 and 2006.
"Whatever we asked Marshal to do when he was here, he did it pretty well," Ferentz said. "He wasn't necessarily a flashy or an eye-catching guy with testing, height, width and all those types of things. But he blocked guys well, no matter where we put him."
After two seasons, Welsh has started 21 games at guard, twice at tackle and now there is an added twist. Because of offseason surgery to James Daniels, Welsh is listed as starting right guard and center heading into spring drills.
"Wherever we move him, he seems to handle it well," Ferentz said. "He's not 6-6 and 330 pounds, but he's just a really good football player and productive on the field. We make a living off players like that. He's got an unbelievable attitude."
| | |
| --- | --- |
| | Iowa will hold an open practice at Valley Stadium in West Des Moines on April 8. The final spring practice will be April 23 in Kinnick Stadium. |
Welsh adheres to the "Just-Put-Me-In-Coach" philosophy — where he is asked to line up, he does so without question.
"Football is football," Welsh said. "I'll play wherever they put me."
Welsh was named first team Freshman All-Big Ten after his first season on the field for the Hawkeyes. He was also one of two redshirt freshmen named to the 2014 Leadership Group. He earned honorable mention All-Big Ten by both coaches and media after the 2015 season when Iowa went 12-2, won the Big Ten West Division, and played in the Rose Bowl Game.
Hawkeye alumnus Tom Moore addressed the Hawkeyes after their third spring practice Saturday. Welsh latched on to the thesis of Moore's speech.
"Football is a simple game, but it's not easy," said Moore, who is currently an offensive coach for the Arizona Cardinals.
"It is not as complicated as people think," Welsh said of playing tackle, guard, and center. "You have to have a general understanding of the offense because a lot of the same things happen — different plays, different looks. You have to recognize patterns, connect things, and see the bigger picture when you switch (positions)."
Throughout his days at Springboro (Ohio) High School, Welsh was cemented at left tackle. He played center twice — at postseason all-star games in Houston and Dayton, Ohio — because he was the smallest lineman on the team.
A player as adaptable as Welsh is a luxury for Brian Ferentz, the UI offensive line coach and run game coordinator. Brian Ferentz also recruits the state of Ohio.
"They are incredible coaches. I think we have the best coaches in the country," Welsh said. "It is the biggest reason I came here — they have such a wealth of knowledge of the position."
In Welsh's case, that is true whether the position is tackle, guard, or center.