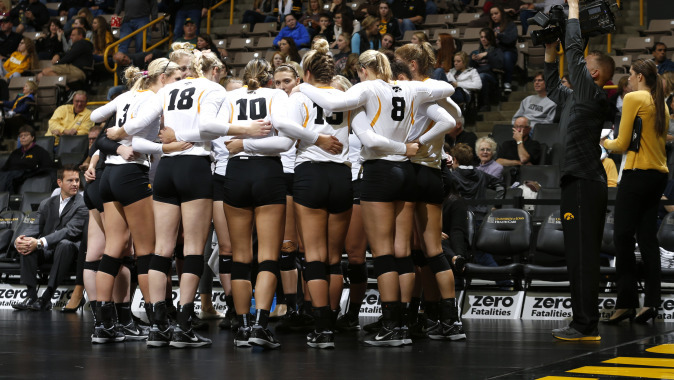 April 4, 2016
IOWA CITY, Iowa — The University of Iowa volleyball team won 12 of 13 sets in its opening tournament at Northern Illinois on Saturday, April 2.
"Our team was mentally tough all day long on Saturday," said UI head coach Bond Shymansky. "They showed great signs of continued improvement in our process."
Iowa faced six different teams at the one-day tournament. The Hawkeyes started the day with three sets against Green Bay. Iowa won the first set, 25-19. After dropping a close second set, 24-26, the Hawkeyes stormed back in set three with a 15-12 victory.
The Hawkeyes went on to sweep Northern Illinois (25-22; 25-21), DePaul (27-25; 25-18), Northern Iowa (26-24; 25-22), Northern Illinois Alumni (15-8; 15-9), and UIC (25-23; 15-11).
"We have a strong growth mindset as players and people right now," Shymansky said. "We will continue to develop the small details one day at a time, one rep at a time. We understand that working hard now to build our confidence and responding well through challenges will pay off in the long run this fall."
The Hawkeyes return to action Saturday, April 9, when they travel to Ames, Iowa, for a tournament hosted by the Cyclones.