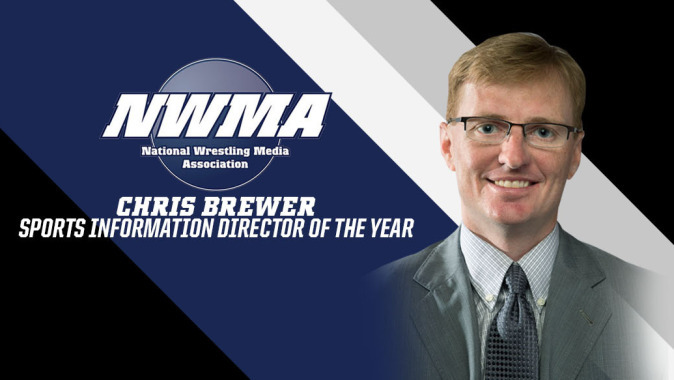 April 13, 2016
IOWA CITY, Iowa – – Chris Brewer, assistant director of Athletic Communications at the University of Iowa, has been named Division I Wrestling Sports Information Director of the Year by the National Wrestling Media Association (NWMA).
Brewer has been a member of the UI's Athletic Communications staff since 2009 and has worked with the Hawkeye wrestling program since 2011.
In addition to his normal duties throughout the 2015-16 wrestling season, Brewer managed the media coverage for Grapple on the Gridiron, an outdoor wrestling dual between Iowa and Oklahoma State that drew a record 42,287 fans in November.
Brewer served as media coordinator for the 2016 Big Ten Wrestling Championships in Carver-Hawkeye Arena in March, and served as the local liaison for USA Wrestling for the U.S. Olympic Team Trials hosted by Iowa in April.
In addition to his wrestling duties, Brewer also serves as the Athletic Communications contact for Hawkeye cross country, track and field, and women's tennis, while assisting in the coverage of Hawkeye football.
Brewer is an Iowa City native and a 2004 graduate of the University of Iowa