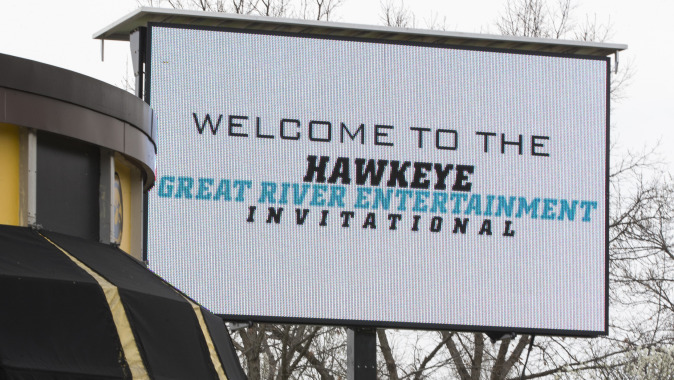 April 16, 2016
Editor's Note: The following first appeared in the University of Iowa's Hawk Talk Daily, an e-newsletter that offers a daily look at the Iowa Hawkeyes, delivered free each morning to thousands of fans of the Hawkeyes worldwide. To receive daily news from the Iowa Hawkeyes, sign up HERE.
By SAM STYCH
hawkeyesports.com
IOWA CITY, Iowa — The University of Iowa men's golf team already captured the title at its own GolfWeek Conference Challenge in September, 2015. Saturday morning, the Hawkeyes will look to use their home course to their advantage a second time when they host the 23rd Hawkeye-Great River Entertainment Invitational.
"Hosting tournaments is a huge benefit to our players," said Iowa's second-year head coach Tyler Stith."It gives our players a tremendous advantage to be able to play against some of the nation's elite on our home golf course. It is something we look forward to and we're excited about.
"It's also nice to be able to provide that opportunity for our friends, family, and supporters to come out and watch us compete."
Last fall, the Hawkeyes hosted the GolfWeek Conference Challenge, a three-day tournament played at Spirit Hollow Golf Course in Burlington, Iowa. Iowa put together one of the best rounds in program history on its way to capturing the team title at 842 (-22; 284, 273, 285). Junior Raymond Knoll earned co-medalist honors after carding a three-round 205 (-11, 66, 67, 72).
Iowa's strong performance at the GolfWeek Conference Challenge has the Hawkeyes fully anticipating a similar performance at the Hawkeye Invitational, although Stith believes his team can put together that kind of performance at any event.
"To be quite honest, I think we can do that anywhere," said Stith. "We have the players that can do that at any golf course and we've seen that from everyone. It may be easier to do it at home, but we have the players to put together solid rounds wherever we go."
This time around, the Hawkeyes will have an even greater advantage when they take to their home course at Finkbine. The Hawkeyes know that a solid performance this weekend would be huge entering postseason play next weekend at the Big Ten Championships.
"We looked at this tournament a year ago and we finished third and then we went and had a great Big Ten Championships," said Stith. "Playing well here gives us a good final preparation for the Big Ten Championships."
For senior Nate Yankovich — one of two seniors on Iowa's roster — this will be his last go around at the Hawkeye Invitational. He hopes to make it a memorable one.
"I have played in this event in each of the last three years," said Yankovich, who tied for 10th in last year's event. "I love Finkbine, it's one of my favorite golf courses because it's always in good shape and the fairways and greens are incredible. It has been my home for the past four years, so it's a special place for me. I'd like to play well and put myself in contention come the final round."
Iowa has won the Hawkeye Invitational 14 times in the 22-year history, and has won four times in the last six years, most recently in 2014. Without a doubt, the Hawkeyes are looking to add to their success this weekend.
Iowa's quest for its 15th Hawkeye Invitational title begins today (36 holes) with a shotgun start at 9 a.m. (CT). The two-day, 54-hole event concludes with a final round of 18 on Sunday, with tee times beginning at 9 a.m. via a shotgun start.