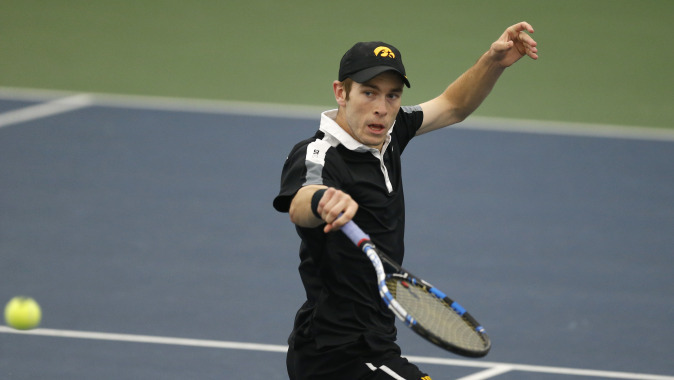 April 20, 2016
WHAT YOU NEED TO KNOW:
No. 72 Iowa is traveling will play No. 22 Michigan in Ann Arbor, Mich. Friday at 5 p.m. (CT)
Iowa will play its final regular season match in East Lansing, Mich. on Sunday at noon against the Spartans.
Both matches are set to play outside, weather permitting.
THIS WEEK:
The 72nd-ranked University of Iowa men's tennis team travels to the Great Lake State this weekend for its final regular season road trip. The Hawkeyes will face off against the Wolverines in Ann Arbor, Mich. at 5 p.m (CT) on Friday at the Varsity Tennis Center, before heading to East Lansing to take on Michigan State at noon on Sunday at the MSU Outdoor Tennis Facility.
SCOUTING THE COMPETITION:
Michigan is ranked No. 22 in the latest Intercollegiate Tennis Association/Oracle rankings, released Tuesday. The team also has two athletes ranked individually, No. 97 Jathan Malik and No. 113 Alex Knight. Last season, Iowa hosted Michigan and won the match, 4-3.
Michigan State is on a 10 match losing streak and has dropped four of the its last five home matches. In conference play, the Spartans are 0-9. They take on Nebraska Friday before hosting Iowa for their final Big Ten match of the season.
WEEKEND WEATHER REPORT:
Friday's match will be outside unless weather.com projects a high less than 50 degrees and wind remains below 20 miles per hour. As it stands, Ann Arbor is predicted to have a high of 60 degrees with winds from the North at 10 to 20 miles per hour.
In East Lansing, the Hawkeyes are set to see 72 degree weather with winds out of the South to South West at 10 to 15 miles per hour.
FOLLOW THE HAWKEYES
Fans can follow the Hawkeyes all season long and receive live match updates on Facebook (facebook.com/IowaMensTennis) or on Twitter (@IowaMensTennis). Fans can also get a behind the scene look on Snapchat (uiowamenstennis).
LIVE STATS
Live stats will be available for Friday's match against No. 22 Michgan and Sunday's match agsint Michigan State on the Iowa men's tennis schedule page at hawkeyesports.com. Check out our Twitter and Facebook the day of the match for a direct link.