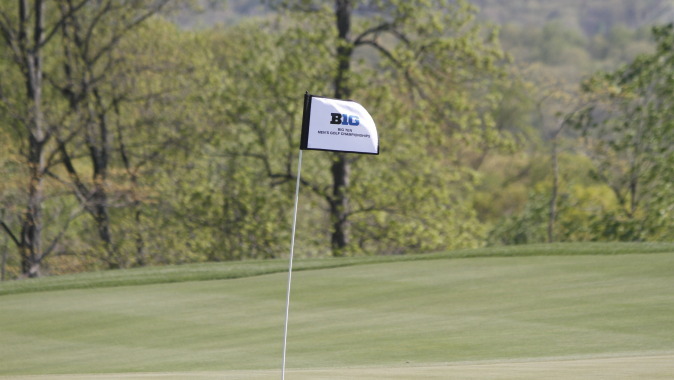 April 22, 2016
Editor's Note: The following first appeared in the University of Iowa's Hawk Talk Daily, an e-newsletter that offers a daily look at the Iowa Hawkeyes, delivered free each morning to thousands of fans of the Hawkeyes worldwide. To receive daily news from the Iowa Hawkeyes, sign up HERE.
By SAM STYCH
hawkeyesports.com
IOWA CITY, Iowa — A second place finish at last weekend's Hawkeye-GRE Invitational may have done the trick, but another solid performance at this weekend's Big Ten Championships certainly wouldn't hurt the University of Iowa men's golf team's chances of making an NCAA Regional.
One of only two Big Ten programs to advance to NCAA competition in each of the last seven seasons, the Hawkeyes know what is on the line this weekend, and they certainly don't want to see their postseason streak end.
"It is important for us to have a good weekend," said senior Nate Yankovich, who has notched three top 10 finishes in what has been the best season of his Hawkeye career. "Qualifying for regionals is the first step to being able to compete for an NCAA title. We control our own destiny at this point, and we will try our best to put together three quality rounds this weekend."
Coming out on top at this year's Big Ten Championships isn't going to be an easy task. The Big Ten always boasts a strong field at the conference tournament, and this year is no different.
Led by second-ranked Illinois, last year's Big Ten champion, the 2016 tournament includes six programs ranked in the top 60 of the GolfWeek/Sagarin rankings. The Hawkeyes fall in at No. 60.
"The Big Ten is strong this year," said UI head coach Tyler Stith. "There will be a handful of Big Ten schools that will qualify for the postseason this year. We have to go out and take care of ourselves and not worry about what the other teams are doing. We know the competition is going to be strong, but we have to control what we can control."
For a second consecutive year, the Big Ten Championships will be played at nationally renowned Victoria National Golf Club in Newburgh, Indiana. Three current Hawkeyes competed in last year's event, so the experience factor bodes well for Iowa when it comes to playing a challenging course.
"This is a big boy golf course," said junior Carson Schaake, co-medalist of last year's Big Ten Championships. "There are challenges around every corner, which I love. It keeps you focused through the whole round. The moment you lose focus is the moment bad things happen. All aspects of your game must be on for you to expect to play well at this course."
Schaake, a native of Omaha, Nebraska, is coming off his best performance of the spring after notching a 10th place finish at last weekend's Hawkeye Invitational. He is ready to defend his Big Ten title, too.
"I want to win and I feel like if I stick to my game plan and play solid golf, I will accomplish that this weekend," said Schaake. "I could not be more ready to go. What happened last year is going to give me peace out on the course, which will help me stay patient and comfortable playing in such a great tournament."
It was 1992 the last time — and only time in program history — the Hawkeyes won a Big Ten Championship. They'll look to change that this weekend. First round play begins today at 9 a.m. (CT). The 54-hole tournament concludes on Sunday.