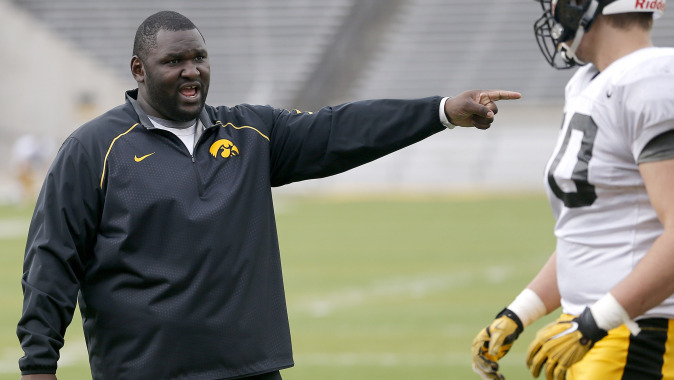 April 25, 2016
Public Scrimmage Photo Gallery

| Coach Ferentz Transcript

Editor's Note: The following first appeared in the University of Iowa's Hawk Talk Daily, an e-newsletter that offers a daily look at the Iowa Hawkeyes, delivered free each morning to thousands of fans of the Hawkeyes worldwide. To receive daily news from the Iowa Hawkeyes, sign up HERE.
By DARREN MILLER
hawkeyesports.com
IOWA CITY, Iowa — Alexander Graham Bell is credited with saying "When one door closes, another door opens." It could also be attributed to Kelvin Bell, recruiting coordinator and assistant defensive line coach for University of Iowa football.
A door closed on Bell in 2001 when, as a redshirt freshman defensive lineman for the Hawkeyes, he tore a knee so severely that it ended his playing career. But instead of packing his bags and returning home to Olive Branch, Mississippi, Bell opened another door and became a student assistant for the Hawkeyes, focusing on recruiting.
While Bell was putting the finishing touches on a bachelor's degree in computer science and mathematics, his younger brother, Scott, moved to Iowa City and enrolled at Regina High School. Bell started a weightlifting program at Regina under head coach Chuck Evans, earned a coaching certificate, and began coaching junior high football.
Bell was at Regina from 2004-05, then accepted a coaching position at Division III Cornell College in Mount Vernon, Iowa, from 2006-07. He was a graduate assistant at Division II Wayne State (Nebraska) from 2008-09, but his contract spanned from August to May, so Bell needed summer income. He earned $200 assisting with the Northeast Nebraska Lightning semipro football team.
"There were guys from different walks of life, but they all had one thing in common: they all loved football and they wanted to keep playing," Bell said. "It was low-rent, but it was a good experience."
It was another example of Bell opening doors when an easier path would have been keeping them closed. His coaching resume took Bell from a small-school junior high, to non-athletic scholarship Division III, to Division II, to semipro.
In 2010 Bell returned to Iowa City and worked in the private sector, but the fire for coaching remained. On a whim, he attended a convention in 2011 and met a coach from Trinity International University in Deerfield, Illinois. They spoke and Bell was offered a job coaching offensive line.
On June 12, 2012 — a day he will never forget — another door in Bell's life opened. He was helping at Tim Dwight's football camp when he received a call from a blocked number. On the other end of the line was UI head coach Kirk Ferentz who was looking for a graduate assistant.
Bell accepted and eventually served as Director of On-Campus Recruiting for two years before ascending to his current position Feb. 26.
"I have been chomping at the bit to get back on the field," Bell said Saturday after the Hawkeyes wrapped up spring drills. "I have been in the role of Director of On-Campus Recruiting the past two years and that is similar to what I'm doing now. But instead of sitting in a room and watching a bunch of film, I'm able to go off campus and interact with these kids."
| | |
| --- | --- |
| | "It's not about finding the kid with the most stars and recruiting him. We have to find the right fit and I learned that a long time ago. We can't deviate from what made us successful just because we found success." |
If you think the day after spring ball is time to relax, think again. On Sunday, Bell caught a 6:30 a.m. flight to Cincinnati, Ohio, where he will spend the week scouring the area for potential Hawkeyes.
The story of how Bell originally arrived in Iowa City is interesting. The 6-foot-2, 315-pound defensive lineman was part of Ferentz's second recruiting class at the UI, that also included tight end Andy Thorn from Waterford, Michigan. Thorn's uncle lived in Olive Branch and Andy watched Olive Branch play a football game while he was on an unofficial visit to Ole Miss.
Thorn told Iowa coaches about Bell, and soon UI assistant Ron Aiken phoned Bell's house. Bell was on a recruiting trip to Alabama-Birmingham at the time (he was also considering Southern Mississippi and Tulane), but Bell knew about Iowa from watching games on ABC that featured Dwight and Tavian Banks.
"I remember they had some success and I felt after meeting coach Ferentz and coach Aiken that it was only a matter of time before it came back," Bell said. "Now we're on that upswing."
Still, Iowa City is a long way from Olive Branch.
"The people were unbelievable, I felt at home here," Bell said. "Football is important in the South and football — especially Iowa football — is important in Iowa City. When I came to Iowa City, everything was Iowa Hawkeyes and I wanted to be part of that."
And even though an injury robbed him of playing a single college snap, Bell absorbed the Hawkeye culture.
"If you don't play a down, one thing coach Ferentz will make sure is that you finish with a college degree and leave as a better human being," Bell said. "I'm living proof."
That is one of many sales pitches Bell can deliver. There are many more:
"For myself not being a native Iowan and being a person of color, I'm an anomaly in Iowa City," Bell said. "I'm here and I'm finding success. When I go to other states, I'm not trying to sell something I haven't done. I have already done this and I can tell you the highs, lows, and why you should give it a shot.
"The thing about coach Ferentz is that he is so fair and consistent. I know exactly what to expect and when I'm telling a kid something, he can take it as the concrete truth. It gives you ultimate confidence when you're selling a place because you know the guy at the top has your back, stands for stability, and believes everything we're preaching."
Bell did not have a difficult time transitioning into his new job. The groundwork was set by predecessors Seth Wallace and Eric Johnson. Having the new Richard O. Jacobson Football Operations Building doesn't hurt, either does a 12-0 regular season, Big Ten West Division championship, and Rose Bowl Game berth during the 2015 season. But Bell said there is still the challenge of finding student-athletes that fit Iowa's system.
"It's not about finding the kid with the most stars and recruiting him," Bell said. "We have to find the right fit and I learned that a long time ago. We can't deviate from what made us successful just because we found success."