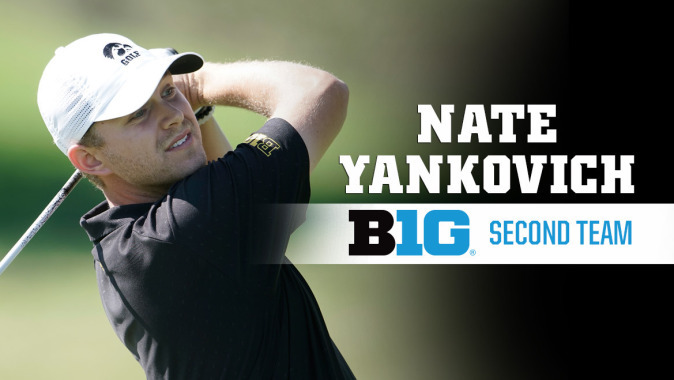 April 26, 2016
IOWA CITY, Iowa — University of Iowa men's golfer Nate Yankovich was named second team All-Big Ten by the conference office Tuesday afternoon. It is the first all-conference recognition of the senior's career. He was also named recipient of Iowa's Big Ten Sportsmanship Award.
Iowa now has 30 All-Big Ten honorees in program history and has had at least one golfer earn all-conference laurels in each of the last six years.
Yankovich, a native of Blacklick, Ohio, is enjoying the best season of his Hawkeye career. He has produced three top 10 finishes after having only two total in the previous three seasons combined. His third-place finish at the Hawkeye Invitational two weeks ago marked the best finish of his career. Yankovich is averaging 71.96 strokes per round this year, which leads the team and is 3.33 strokes better than last year's average.
The 2015-16 season has seen Yankovich card the best 18-hole and 54-hole scores of his career. He has carded a six-under-par 66 two times this season, with the most recent coming in the middle of March at the Schenkel Invitational. His best 54-hole score came in the fall at the Golfweek Conference Challenge, where he fired a 209 (-7) to help the Hawkeyes capture the team title.
This past weekend Yankovich notched his seventh top 20 finish of the year after tying for 14th at the Big Ten Championships. Yankovich carded a three-round, 54-hole 216 (E; 73, 69, 74).
Yankovich and the Hawkeyes, ranked 49th nationally, have advanced to NCAA competition in each of the last seven seasons. This year's selection show will air on Golf Channel on May 5 at 8:30 a.m. (CT). NCAA Regional competition will take place at six sites from May 16-18.