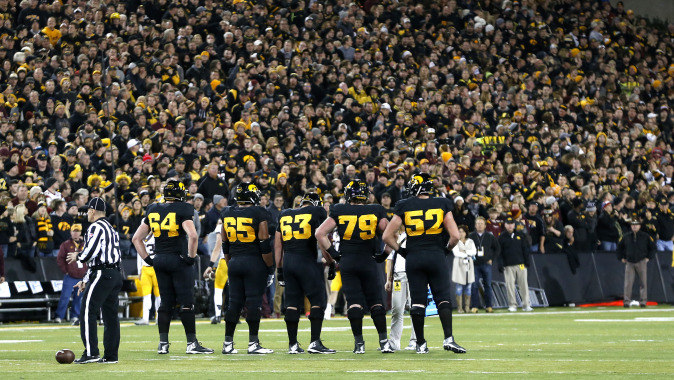 May 2, 2016
IOWA CITY, Iowa — The University of Iowa and the Michigan Wolverines will meet on the football field this fall for the first time since 2013, with that contest being played in prime time (7 p.m. CT) in Kinnick Stadium on Saturday, Nov. 12. The selection of the game was announced today by ESPN, which will broadcast the contest to a national audience on ABC, ESPN or ESPN2.
ESPN announced its 2016 prime time schedule that includes Big Ten Conference teams. The Big Ten Network (BTN) is expected to announce its selection of prime time games in the near future. ESPN and BTN prime time requests must receive the consent of the Big Ten Conference and the home team before being confirmed.
"Our two prime time games in Kinnick Stadium last season proved to be outstanding games and were very well received by our fans," said Gary Barta, the UI's director of athletics. "Most importantly, we came away with two important wins. The electricity surrounding the home field advantage was definitely a factor.
"Both the nonconference win over Pitt, and then the doubleheader with wrestling and the battle for Floyd of Rosedale, provided a great showcase for our program, our fans, and our historic venue," said Barta. "We are also excited to know that additional prime time games may be selected by BTN."
The home contest against Michigan is Iowa's Blackout game for the 2016 season, similar to the night game a year ago against Minnesota. Fans will be encouraged to wear black clothing to the game. The Michigan contest will also be Iowa's recognition of Veteran's Day/Military Appreciation Game.
Iowa completed a perfect home slate in 2015, winning all seven games in Kinnick Stadium. Last year also marked the first time the Hawkeyes hosted two prime time events in the same season. Overall, Iowa holds an 8-4 record in night games in Kinnick, including a 30-28 win over the Wolverines on Oct. 10, 2009. Seven of the 12 games have started after 7 p.m.
Iowa has prime time wins in home games against Northwestern (2011), Penn State (2010), Michigan (2009), Syracuse (2007), Arizona State (2003), Northern Illinois (1999), Pittsburgh (2015), and Minnesota (2015). Iowa has night game losses to Penn State (2012), Ohio State (2006), Iowa State (2002), and Miami, Florida (1992) in Kinnick Stadium.
Iowa opens the 2016 football season Sept. 3, hosting Miami, Ohio. The Hawkeyes will also host nonconference opponents Iowa State (Sept. 10) and North Dakota State (Sept. 17). Big Ten home opponents include Northwestern (Oct. 1, Homecoming), Wisconsin (Oct. 22), Michigan (Nov. 12), and Nebraska (Nov. 25).
Single-game tickets are not available at this time. Questions concerning the purchase of 2016 football tickets, including general public, UI faculty/staff and UI student seasons tickets by current UI students, should be directed to the UI Athletics Ticket Office. The office is open weekdays from 9 a.m. to 4 p.m. The office telephone number is 1-800-IA-HAWKS. Information is also available at hawkeyesports.com/tickets.