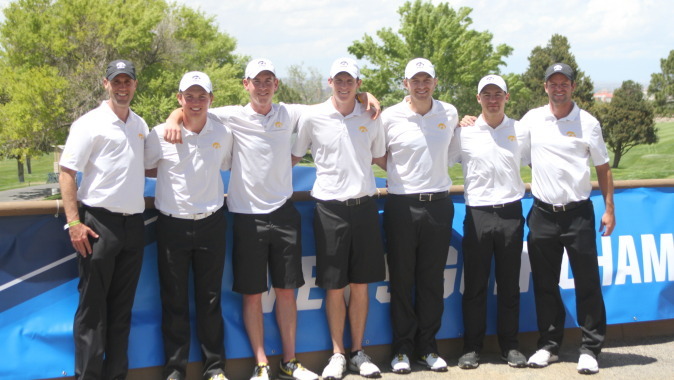 May 16, 2016
Editor's Note: The following first appeared in the University of Iowa's Hawk Talk Daily, an e-newsletter that offers a daily look at the Iowa Hawkeyes, delivered free each morning to thousands of fans of the Hawkeyes worldwide. To receive daily news from the Iowa Hawkeyes, sign up HERE.
By SAM STYCH
hawkeyesports.com
IOWA CITY, Iowa — For the University of Iowa men's golf team, qualifying for NCAA Regionals is step one of the ultimate plan. Now the focus of the Hawkeyes shifts toward step two, advancing to the NCAA Championships to compete for a national title.
Iowa has advanced to regional play in each of the last eight seasons, joining Illinois as the only two Big Ten programs to compete at regionals in eight consecutive years. While advancing to regionals is a big accomplishment in itself, the Hawkeyes want more.
"Qualifying for regionals is a big goal of ours going into each year, but it's also an expectation," said second-year head coach Tyler Stith. "We want to take the next step and advance to the NCAA Championships. We are playing well right now and believe that we belong."
The Hawkeyes have not advanced to the NCAA Championships since 2012, when they captured a 22nd place finish in Los Angeles. For senior Nate Yankovich, this is his last opportunity to make it to the biggest stage in collegiate golf. This week also marks the first time Yankovich will be a part of Iowa's regional lineup since his freshman year.
Yankovich's Iowa journey has been filled with ups and downs. He was a lineup regular as a freshman, but only competed in nine rounds during his sophomore campaign and wound up being left off of Iowa's regional lineup in 2014 and 2015.
"My sophomore year was rough," said Yankovich. "It was the most difficult year for me academically, and I didn't put in enough work on the golf course. After my sophomore year, I was tired of mediocrity and I made a commitment to make a name for myself as a student-athlete at the University of Iowa."
That commitment paid off as Yankovich ended up qualifying for the U.S. Amateur in back-to-back summers and is currently enjoying the best season of his Hawkeye career.
"My senior year has been great," said Yankovich, who was named second-team All-Big Ten in April. "It's gratifying to see all the pieces falling together in my game for my last season. I have been consistent and I have put myself in position to finish well in almost every event this season. I have come a long way in my career and I have the University of Iowa to thank for that."
A Blacklick, Ohio, native, Yankovich has produced three top 10 finishes this season after only having two total in his previous three seasons combined. He has also shaved a few strokes off of his game this year, averaging a team-best 71.96 strokes per round — 3.33 strokes less than last year's average.
Yankovich's senior year has also seen several career bests, including the best 18-hole and 54-hole scores of his career. Yankovich has carded a six-under-par 66 two different times, with the most recent coming in the middle of March at the Schenkel Invitational.
His best 54-hole score came in the fall at the Golfweek Conference Challenge, where he fired a 209 (-7) in helping Iowa win the team title. Yankovich also notched a third place finish at the Hawkeye Invitational in April, marking the best finish of his career.
"I am proud of Nate," said Stith. "Not only for how he has played this year, but for the leadership role he has grown into. He's a great example of what you can accomplish with 100 percent commitment and belief."
That leadership role will come in handy this week as Yankovich will be the only senior in the Hawkeye lineup.
"Being the lone senior in the lineup is an honor and is exciting," he said. "I feel that I have done a good job helping lead the team this year with my play and personality. I also feel prepared for a high-quality event like this because my summer schedule consists of good amateur events. I am hoping I can help lead us to Eugene this week."
Yankovich and the Hawkeyes begin their quest for a berth at the 2016 NCAA Championships today at 10:15 a.m. (CT) when they begin first round play at the NCAA Albuquerque Regional in Albuquerque, New Mexico.