May 19, 2016
IOWA CITY, Iowa — The NCAA Division I Track and Field and Cross Country Committee announced Thursday that 25 University of Iowa student-athletes have qualified for the 2016 NCAA Track and Field Outdoor Championships on May 26-28 in Lawrence, Kansas.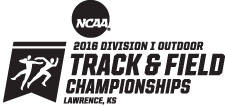 The 25 Hawkeyes compete in 32 events at the NCAA Championships opening round, including 28 individual events and four relays. The meet features the NCAA West Region's top 48 athletes in individual events and the top 24 relays. The top 12 individuals and relays from the West Region move on to the NCAA Championships final rounds in Eugene, Oregon, on June 8-11.
The Hawkeyes are seeded 12th or better in 12 events, including both the men's and women's 400- and 1,600-meter relays. The men's 400-meter relay has advanced to the NCAA finals in each of the last two years and is seeded sixth. The women's Big Ten champion and school record-setting 1,600-meter relay is seeded fifth.
Redshirt freshman Reno Tuufuli is the highest seeded individual. The Big Ten runner-up is the No. 2 seed in the discus. Returning All-American and reigning Big Ten champion Aaron Mallett is the No. 3 seed in the 110-meter hurdles.
Elexis Guster, an All-American last season, is the No. 6 seed in the 400, and MonTayla Holder, an All-American in 2014, is the No. 8 seed in the 400 meter hurdles. Big Ten champion Briana Guillory is making her NCAA debut as the No. 20 seed in the 200.
The NCAA Championships begin Thursday, May 26 at 12 p.m. (CT) at Rock Chalk Park on the campus of Kansas University. A live video stream is available at kuathletics.com.
QUALIFIERS BY EVENT (SEED, ATHLETE, QUALIFYING TIME/MARK)
Women's 100 meters
43. Taylor Chapman, 11.60
Men's 100 meters
29. Vinnie Saucer, Jr., 10.36
38. Christian Brissett, 10.43
Men's 110-meter hurdles
3. Aaron Mallett, 13.48
39. Chris Douglas, 14.23
Women's 200 meters
10. Briana Guillory, 22.95
16. Lake Kwaza, 23.17
Men's 200 meters
8. James Harrington, 20.57
20. Christian Brissett, 20.83
Women's 400 meters
6. Elexis Guster, 51.85
27. Alexis Hernandez, 53.82
Men's 400 meters
8. Mar'yea Harris, 45.76
18. DeJuan Frye, 46.41
Women's 400-meter hurdles
8. MonTayla Holder, 56.70
Men's 400-meter hurdles
13. Noah Larrison, 50.94
14. Mitch Wolff, 50.96
Women's 800 meters
33. Mahnee Watts, 2:07.41
Men's 800 meters
9. Carter Lilly, 1:47.32
44. Pavlo Hutsalyuk, 1:49.94
Women's high jump
36. Madison Rouw, 1.75m
36. Khanishah Williams, 1.75m
Men's high jump
15. Kevin Spejcher, 2.18m
Women's long jump
29. Jahisha Thomas, 6.07m
Women's triple jump
15. Jahisha Thomas, 12.89m
Men's shot put
24. Reno Tuufuli, 18.34m
43. Avery Meyers, 17.63m
Men's discus
2. Reno Tuufuli, 60.71m
Men's javelin
44. Alex Balke, 62.77m
Women's 400-meter relay
7. IOWA, 44.04
Men's 400-meter relay
6. IOWA, 39.44
Women's 1,600-meter relay
5. IOWA, 3:31.22
Men's 1,600-meter relay
8. IOWA, 3:05.72