Redshirt freshman Noah Larrison contends for an NCAA Championship berth in the 400-meter hurdles at this week's West Regional preliminary round in Lawrence, Kansas. (Photo: Darren Miller)
May 26, 2016
LAWRENCE, Kan. — The future is bright for the University of Iowa track and field team as 11 of its 28 individual qualifying marks for this week's NCAA West Regional Championships in Lawrence, Kansas, belong to rookies.
While seven Hawkeyes aim for a return trip to the NCAA final site in Eugene, Oregon, Iowa's young talent is highlighted by Big Ten Freshman of the Year Briana Guillory and redshirt freshman Reno Tuufuli, who owns the team's highest regional ranking (2) and is the top-ranked freshman discus thrower in the country.
"I'm grateful to come here, especially in both of my events," said Tuufuli. "I feel confident that I'll make it in the discus. For shot put, I'm going to need a little luck. I have big goals, so I feel like I'm on track and that all my hard work is paying off. If I'm not No. 1, I feel like I'm behind. I'm not going to stop until I'm the best. The future is looking good right now."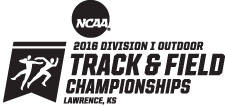 Tuufuli is one of three Hawkeyes, including true freshman Christian Brissett, who qualified in a pair of individual events.
"Big Tens is already over and now everything is extra, so I'm glad to make it this far being my first year," said Brissett, who competes in the men's 100 and 200 meters while also running a leg on the 11th-seeded 400-meter relay. "I'm feeling good, and I don't feel too much pressure. I just have to keep everything together and run the way I've been running all season."
As simple as Brissett's race strategy sounds, less is also more for Guillory, the Big Ten 200-meter champion and a unit of the conference record-setting 1,600-meter relay. She is unaware of her regional ranking in the 200 meters and prefers it that way.
"You get a medal and you put it up because there's no guarantees next week," said Guillory. "Winning Big Tens was me not overthinking it — my body just did what it was taught and trained to do. I don't come in with too many expectations because I don't need any more anxiousness than I already give myself.
"It's crazy because I have an electronic sticky note on my desktop where I usually put my homework list, and once I got done with finals I erased everything (on the sticky note), and the only thing remaining was to win Big Tens. I just saw the sticky note and smiled because it actually happened; now I just want to do damage at NCAAs."
Also looking to make an impact this week are freshmen Mar'yea Harris and DeJuan Frye in the men's 400 meters, and redshirt freshman Noah Larrison in the men's 400-meter hurdles.
"Everyone is there for the same reason — just to run," said Harris. "I don't see it as 'They're older than me, so they're better than me'. It feels good at the moment, but my ultimate goal is to make it to nationals and place."
The NCAA West preliminary round begins Thursday at 12 p.m. (CT) at Rock Chalk Park on the campus of the University of Kansas. The three-day event concludes Saturday at 9:45 p.m.