24 Hawkeyes to Watch 2016-17 | 2016 Iowa Football Schedule | How to order football tickets
Editor's Note: The following first appeared in the University of Iowa's Hawk Talk Daily, an e-newsletter that offers a daily look at the Iowa Hawkeyes, delivered free each morning to thousands of fans of the Hawkeyes worldwide. To receive daily news from the Iowa Hawkeyes, sign up HERE.
By DARREN MILLER
hawkeyesports.com
IOWA CITY, Iowa — There were so many superlatives dotting the University of Iowa's 2015 football landscape, including a colossal season put together by wide receiver Matt VandeBerg.
More than seven months removed from a 36-yard touchdown reception in the 2016 Rose Bowl Game, the contributions from the 6-foot-1, 185-pound senior from Brandon, South Dakota, are all the more notable:
 His 65 receptions are third-most in a season in school history.? He was the team's leading receiver in eight of 12 games and shared team-high honors two other times.
 He compiled career-high numbers with nine receptions for 114 yards during a 31-17 win at Iowa State, including a 48-yard reception in the fourth quarter on third-and-21 from Iowa's 6.
 His 703 receiving yards in a season are tied for 29th in Iowa history.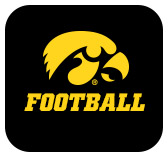 VandeBerg, who was named honorable-mention All-Big Ten by coaches and media, should make his 11th consecutive start (and 17th overall) when the Hawkeyes open the season Sept. 3 against Miami (Ohio) in Kinnick Stadium.
 
For tickets to the Miami (Ohio) game, click HERE.
 
With fall camp two weeks away (Media Day is Saturday, Aug. 6), VandeBerg and the Hawkeyes are in a heavy conditioning phase, preparing for the rigorous demands of the preseason.
"It's heavy lifting, heavy conditioning and by the time fall camp comes around we're ready for it," VandeBerg said July 13 inside the Stew and LeNore Hansen Football Performance Center.
Iowa won its first 12 games in 2015, the Big Ten West Division, and advanced to the Big Ten Championship Game (16-13 loss to Michigan State) and the Rose Bowl Game (45-16 loss to Stanford). The Hawkeyes threw for 2,862 yards and returning are VandeBerg, senior tight end George Kittle (20 receptions, 290 yards, six touchdowns), junior running back Derrick Mitchell, Jr., (15-141-0), sophomore wide receiver Jerminic Smith (6-141-0), junior running back Akrum Wadley (6-94-1) and senior wide receiver Riley McCarron (5-56-1).
"There are a lot of weapons out there," VandeBerg said. "You have core guys like George Kittle, (sophomore wide receiver) Jay Scheel, Jerminic Smith, Riley McCarron. With (senior quarterback) C.J. (Beathard), anybody is a weapon. It is never necessarily a No. 1 guy, we have a bunch of guys who can make plays and you will see that a lot this fall."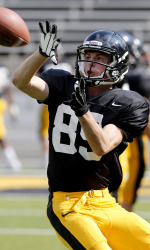 As for VandeBerg, he is using his final summer working on reading defenses. He says that comes with experience, which is something he got early in his college career when he was one of four true freshmen to see action in 2013. VandeBerg caught eight passes for 59 yards in his first season and 16 for 236 and a touchdown as a sophomore in 2014.
 
"I wouldn't say we're farther along (than 2015), other than guys having experience," VandeBerg said. "When seniors move out, other guys step in and take those roles like Jerminic with a full year under his belt. That helps experience-wise. Other than that, it's the same type of work: you go in, try to get better, and come back the next day and do the same thing."
 
Big Ten Football Media Days and Kickoff Luncheon are July 25-26 at Hyatt Regency McCormick Place in Chicago. Kids Day at Kinnick is set for Saturday, Aug. 13.