By RICK BROWN
hawkeyesports.com
Leading up to the 2016 season opener against Miami of Ohio on Sept. 3 at Kinnick Stadium, hawkeyesports.com's Rick Brown is taking a game-by-game look back at the University of Iowa's historic 2015 season.
With perspective from Iowa head coach Kirk Ferentz, his staff and players, we hope to give you some insight into a season that will never be forgotten.
Iowa 40, Northwestern 10
Oct. 17, 2015, Ryan Field
Evanston, Illinois
 
Iowa's undefeated football team limped into Ryan Field, literally and figuratively. The injury list was long. Much longer than University of Iowa head coach Kirk Ferentz let on when he had his weekly visit with media the Tuesday before the game.
 
Quarterback C.J. Beathard was a shadow of himself. He saw limited practice time that week. The offensive line, missing starting tackles Boone Myers and Ike Boettger, was reshuffled. Running back LeShun Daniels, Jr., was out. Defensive end Drew Ott had been lost for the season the week before with a knee injury.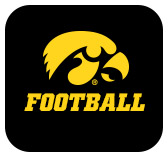 Northwestern was ranked 20th, with just one loss. Iowa was undefeated, ranked 17th and, as Hayden Fry always used to say, battered and bruised.
 
If you had told Ferentz before kickoff that the final was going to be 40-10, he admits now that he would have had his team on the short end of the score.
 
"I probably would have mispicked that one, for sure, if you gave me some truth serum," Ferentz said.
 
Ferentz had done his best during the week of the game to paint an optimistic picture. Quite frankly, he was playing a game within a game.
 
"You always try to put on a confident front, a happy front, all that kind of thing," Ferentz said. "But I was concerned that week, just because of the guys that were out and then the guys that didn't practice. I just wondered if we didn't tip the balance there, because we were pretty close to it. At least I thought we were."
 
The Hawkeyes were clearly not at 100 percent. Not even close.
 
"Kirk is not one that talks about injuries," offensive coordinator and quarterbacks coach Greg Davis said. "But we were decimated going into that game."
 
But a funny thing happened on the way to common-sense expectations that the first loss of the season was inevitable. The Hawkeyes survived yet another injury with a fast start and a big second half.
 
"Some how, some way, good things happened that day," Ferentz said.
 
Nothing says "Next Man In" like the offensive line this day in Evanston. Cole Croston and James Daniels, a true freshman, stepped in and started for Boettger and Myers at tackle. During the game, Sean Welsh moved from left guard to right tackle.
 
"It's just guys throughout the year pulling together and doing the right things, the little things, the daily disciplines that we focus on every day," Myers said. "That's the next man in. We expect the next man to do as well as the starters. If we move from right tackle to left guard, or left guard to right guard, we expect it to be the same no matter what."
 
The day's challenge grew when Canzeri, fresh off a 256-yard game the week before against Illinois, injured his ankle in the first quarter and couldn't return. In stepped Akrum Wadley, who rushed for 204 yards and four touchdowns in the victory.
 
"Akrum does things that are special," Davis said. "But we also knew that a month before he was in the doghouse because he could not hang onto the football. And for him to play like he did, for the line to perform the way they did, to beat a team like Northwestern at their place, it was really a special time for us as a staff. The defense played lights out."
 
That Hawkeye defense limited the Wildcats to 13 first downs, 198 yards of total offense, and no points the second half.
 
"Holding them under 200 yards, that's hard to do against Northwestern," defensive coordinator Phil Parker said.
 
Iowa linebacker Josey Jewell made life miserable for Northwestern quarterback Clayton Thorson all day. Play like that helped Iowa overcome its long list of injuries.
 
"We just had to have guys step up," Jewell said.
 
Iowa had a 3-0 lead after a quarter. On the first play of the second quarter, Wadley scored on a 35-yard run around left end. That run matched the total number of yards he had gained in the first six games.
 
"That play was executed really well," Davis said. "It's called "Jab.' We show the play one way and it is designed to come out the back door. It's a play that's really good for Akrum."
 
During the break between the first and second quarter, running backs coach Chris White suggested the play.
 
"Chris says, 'Hey, Greg, if you get a chance don't forget about Jab,'" Davis said. "I said, 'You're exactly right, let's go with it right here.' And right as we snap the ball, their defensive end jumps inside, Henry (Krieger Coble) pins him, and Akrum is one-on-one with the cornerback, two yards deep. He makes the corner miss and goes down the boundary for a touchdown. It was a huge boost."
 
Iowa's 16-0 lead would be cut to 16-10 at halftime, but the Hawkeyes made big plays on both sides of the ball while outscoring the Wildcats the second half, 24-0. Derrick Mitchell, Jr., who had entered the game with 52 yards rushing on the season, had 79 in 10 carries including a touchdown.
 
Iowa gained 294 yards on the ground behind that reshuffled offensive line. And Beathard limped his way to victory.
 
"We go in there, lose Canzeri in the first quarter, the offensive line is missing two guys and C.J. couldn't walk half of the year," tight end George Kittle said. "That's Iowa football for you. We throw people around, switch them up, but we're still going to come at you as tough as we can."
 
As he reflects on the 2015 season, this is a day that Ferentz remembers fondly. His team wasn't healthy physically. Mentally, it was 100 percent.
 
"C.J. was so limited that week in practice," Ferentz said. "He was really sore. He came out at one point, and if it had been a neck-and-neck game I'm not sure if he could have finished. We'll never know, fortunately. Canzeri goes down and Akrum steps in and carries the load much like Jordan did the week before. When you start getting significant contributions from guys around the room, that's the sign of a healthy football team."
 
Davis called it "a pretty special day in the 2015 season. Of all the games we played last year, that was emotional for me when I left the pressbox."
 
Iowa was 7-0 and headed into a well-timed bye week.
 
"Thank goodness we didn't have to play the next week, because we would have been in trouble," Ferentz said.
About the Author
Rick Brown is a native of Fort Dodge, Iowa, and a University of Iowa graduate. He covered Iowa athletics for the past four decades for the Des Moines Register prior to his retirement in December.