Purchase Single-Game Tickets | 24 Hawkeyes to Watch 2016-17 – /sports/2016/7/20/24-hawkeyes-to-watch-2016-17.aspx | 2016 Iowa Football Schedule
By RICK BROWN
hawkeyesports.com
Leading up to the 2016 season opener against Miami of Ohio on Sept. 3 at Kinnick Stadium, hawkeyesports.com's Rick Brown is taking a game-by-game look back at the University of Iowa's historic 2015 season
.
With perspective from Iowa head coach Kirk Ferentz, his staff and players, we hope to give you some insight into a season that will never be forgotten.
 
Iowa 31, Maryland 15
Oct. 31, 2015, Kinnick Stadium
Iowa City, Iowa
 
Anyone who knows Kirk Ferentz can tell you this: Iowa's football coach has a tough time withdrawing bad games from his memory bank.
 
Two games, in particular, stick in Ferentz's craw from the 2014 season. One was a 37-34 overtime loss to Nebraska in the regular-season finale at Kinnick Stadium. The other was a 38-31 loss at Maryland.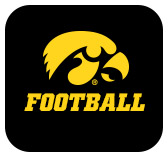 "I'm not saying we handed those games over, but we certainly didn't maximize opportunities," Ferentz said. "Those were games where we just didn't make it challenging enough for our opponents. And that's our fault. You carry that with you for awhile."
 
Iowa got off to a 14-0 lead that day in College Park, Maryland, but let it slip away. When the Terrapins returned a year later for their first appearance at Kinnick Stadium, the Hawkeyes got off to a 21-0 lead. But this time they finished the deal to improve to 8-0 overall and 4-0 in the Big Ten.
 
Ferentz takes great pleasure in seeing one of his players improve from the previous season. Cornerback Desmond King did just that. He became the school's 23rd consensus All-American, and won the Jim Thorpe Trophy that goes to the nation's top defensive back.
 
King got national attention with his eight interceptions, tying a school record set by Heisman Trophy winner Nile Kinnick in 1939 and matched by Lou King in 1981. King's favorite was the one he picked off against Maryland and returned 88 yards for a touchdown midway through the fourth quarter.
 
"It was my favorite because I scored a touchdown," King said.
 
It was a theft born out of film study.
 
"He knew the play," Iowa defensive coordinator Phil Parker said. "And that's what happens when a guy prepares well for a game and really studies. That's the thing that a lot of people don't know, how much time they're spending in the film room picking things up that might give them an advantage."
 
King's big play almost didn't happen. On the play before, safety Jordan Lomax crushed Maryland quarterback Perry Hills and forced a fumble. It was recovered by the Terrapins' center, Evan Mulrooney, at the Iowa 12.
 
Maryland then called a tunnel screen, and 12 players knew what was coming – the 11 in Maryland uniforms and King.
 
"They ran the same play the week before, and actually scored (in a 31-30 loss to Penn State)," King said, "That was something I picked up, watching what personnel they came out in. It was a three-receiver set. And then I saw the formation, trips left. And one guy was off the line. In the film, I remembered him playing off the line.
 
"Same formation, same personnel. Then I locked in on him (wide receiver Malcom Culmer) because I was in man-to-man coverage. Once I saw him take a step back. I knew exactly what play it was. I just raced to the point of the ball, and there it was."
 
Hills threw the ball right where King expected it to be. He caught it at the Iowa 12 and was off to the races.
 
"I was praying I wouldn't get caught," King said. "I knew it was a big moment. And I heard the crowd going crazy."
 
Hills was closing fast from King's right. But cornerback Greg Mabin put a hand on Hills' left shoulder as King reached the Maryland 30-yard line, nearly a block in the back. Hills lost his balance and tumbled to the turf.
 
"That sprung me free," King said.
 
Just 7:38 remained in the game, and the 31-7 score looked invincible. Then Maryland's Will Likely returned the ensuing kickoff 100 yards for a touchdown.
 
"I was trying to do everything I could to get us back in the game," Likely said. "(King) is a great player, and had a great season. My hat is off to him. I said, "OK, he made a play, now I've got to try and make a play.' I give him respect, because not a lot of guys can do the things he did."
 
King's play is a perfect example of the improvement a player makes with experience.
 
"It's illustrative of the growth Desmond has had," Ferentz said. "He's played well all three years. But that's the benefit of being a veteran guy, a guy who is a little more experienced."
 
As a coach, those are the stories that resonate with Ferentz. In the depths of his office, he has articles about players who showed the same kind of growth King has displayed.
 
"Just the difference a year or two makes, sometimes, when a guy really knows how to prepare and put that little extra study in," Ferentz said. "You get tuned in to some things that can really make you look like a better player. The good pros do the same thing. They know how to use every tool available to them, every resource."
 
After managing more than 400 yards of total offense in each of the previous two games, against Northwestern and Illinois, the Hawkeyes had just 293 against Maryland. But Iowa's defense limited the Terrapins to 241 yards.
 
Iowa had limped into Northwestern and won, despite a long injury list. A bye week had followed.
 
"It we had played the Saturday of the bye week, it would have been a real challenge," Ferentz said. "Because we were really worse off than we were going into the Northwestern game. That week gave us a chance to regroup a little bit. But it was less than optimal, put it that way."
 
Still, there was enough in the tank to get the victory. Thanks, in no small part, to film study and an All-American's 88-yard interception return for a touchdown.
About the Author
Rick Brown is a native of Fort Dodge, Iowa, and a University of Iowa graduate. He covered Iowa athletics for the past four decades for the Des Moines Register prior to his retirement in December.