24 Hawkeyes to Watch 2016-17 | Partial 2016-17 UI Women's Basketball Schedule
Editor's Note: The following first appeared in the University of Iowa's Hawk Talk Daily, an e-newsletter that offers a daily look at the Iowa Hawkeyes, delivered free each morning to thousands of fans of the Hawkeyes worldwide. To receive daily news from the Iowa Hawkeyes, sign up HERE.
By DARREN MILLER
hawkeyesports.com
NORTH LIBERTY, Iowa —Ally Disterhoft has lived one of the highest of highs with the University of Iowa women's basketball team during its Sweet 16 run in the NCAA Tournament in 2015.
 
She was also there last season when the Hawkeyes missed the NCAA Tournament for the first time in nine seasons, then lost at home in the first round of the WNIT to Ball State.
 
With one season of eligibility remaining, Disterhoft vows for a return to great things in 2016-17.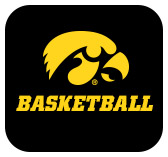 "I want to make the most out of senior year," Disterhoft said July 27 following her final Game Time League performance in North Liberty. "We have one shot left to do great things. We haven't won a Big Ten championship since I have been here, so that is always the goal. We're going to work our butts off every day to make this season a great one."
 
Iowa was 19-14 a year ago. Despite winning three of its final four regular-season games and splitting two games in the Big Ten Tournament, the Hawkeyes were left out of the 64-team NCAA Tournament. In the first round of the WNIT, they never led during a 77-72 loss to the Cardinals.  
 
Disterhoft and fellow seniors Alexa Kastanek and Hailey Schneden have talked specifically about the dichotomy of the past two seasons.
 
"We have been through the highest times with Iowa and the lowest lows," Disterhoft said. "We know what all of that feels like and that will be huge motivation."
 
On July 27, Disterhoft and her Linn County Anesthesiologists teammates defeated Kastenek and Marion Iron Company, 59-47, in the Game Time League. Disterhoft averaged 32.7 points in three outings.
 
"Game Time is a great chance to get together, mesh with the younger girls, mesh with your teammates and have fun," Disterhoft said.
 
She had an up-close view of incoming freshman Amanda Ollinger, who guarded Disterhoft most of the time Wednesday. Ollinger joins Bre Cera, Kathleen Doyle, Makenzie Meyer, and Alexis Sevillian as Hawkeye newcomers.
 
"They are a talented group and they get after it every day and that's exciting to see," Disterhoft said. "There is a lot of potential there, so if they keep working hard, there is playing time for them to get and they have to go out and seize it if that's what they want."
 
If the newbies are wise, they will pay close attention to Disterhoft, who scored 474 points in her first season as a Hawkeye in 2013-14 (second-most in program history for a freshman). She is 11th in school history with 1,542 career points, 458 from becoming the second Hawkeye 2,000-point scorer and 517 from tying Cindy Haugejorde (1976-80) for the most points ever.
 
After winning 53 games in her first two seasons, Disterhoft is working toward a season that includes 26-or-more victories.
 
"You have to bring that intensity every day because it's your last opportunity," said Disterhoft, who was the state of Iowa's 2013Miss Basketball. "This is my last summer workout session with the team, this is going to be our last preseason, so it's valuing each day and getting the most out of each day and working as hard as you can to make your senior year a great one."