Hawkeye Fan Shop — A Black & Gold Store | 24 Hawkeyes to Watch 2016-17 | Purchase Single-Game Tickets | 2016 Football Fall Camp Central | 2016 Iowa Football Schedule
By JAMES ALLAN
hawkeyesports.com
IOWA CITY, Iowa — It is a new year for the University of Iowa football team.
 
UI head coach Kirk Ferentz wiped the slate clean following the program's first 12-0 regular season, a Big Ten West Division title, and a Rose Bowl Game appearance.
 
It's on to 2016.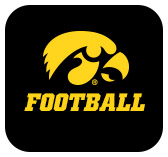 "In January we moved on to a new year and with that comes new opportunities, new challenges," Ferentz said Saturday during 2016 Iowa Football Media Day inside the Feller Club Room in Carver-Hawkeye Arena. "Some of those things we've faced, some are ahead of us."
 
The Hawkeyes will attack the 2016 season as a favorite rather than an underdog.  Iowa is the media pick to win the Big Ten West Division title and is ranked 15th in the Amway Preseason Coaches' Poll. 
 
"Of the 25 teams that were in the preseason poll last year, eight of them didn't make the cut at the end of the season," said Ferentz. "Eight teams that didn't make it entered (the rankings), most noteworthy was Houston, who won 13 games, and we won 12. Neither of us were mentioned a year ago at this point.
 
"Our players need to understand that the door swings both ways; it opens and closes. Preseason polls are like recruiting class rankings; it doesn't matter until you start doing something."
 
Ferentz has a strong core of upperclassmen to keep the team moving forward, led by senior quarterback C.J. Beathard and senior defensive back Desmond King.  Iowa has 15 starters returning — seven on offense and seven on defense and one specialist.
 
Beathard has the "it-factor."  Ferentz likens Beathard to a Hawkeye great.  A Heisman Trophy runner-up.
 
"I'm not saying he's Brad Banks, but there are some parallels in the way he carries himself and does things," said Ferentz. "The thing about Brad was the way he did things and the way he was — people gravitated toward him. It was powerful and as he went our team went with him.
 
"C.J. has that same characteristic. There's something about him and the commonality is they're both genuine people. They have all the right motives and agendas. They're there to help the team win, they care about their teammates, all those things you hope a quarterback can do."
 
With greater preseason expectations, Ferentz isn't looking at 2016 in any different light than a season ago. The expectations are no different from when he was named Iowa's head coach in 1999.
 
"Our goal has been the same, to be Big Ten champions, and what it comes down to and all you can ask for is opportunity," said Ferentz. "We feel like we have a solid foundation built right now.
 
"Realistically, just like last year or 2014, we have a chance to put a good team on the field, but we're so much in the middle of the road as far as developing right now."
 
The Hawkeyes opened fall camp Aug. 4; they were in pads for the first time Saturday. Last year's team made its biggest jump during the three-week fall camp.
 
"That's what this team has to do," said Ferentz. "We have a lot of work to do at a lot of different levels.
With that being said, we have potential and have a lot of guys with good attitudes.
 
"What can we do? How fast can we get better? How much better can we get?  That's the race every team is running in the country right now, so it's exciting. It's fun to be a part of that, especially these three weeks where there isn't much interference."
 
The Hawkeyes open the 2016 season hosting Miami (Ohio) at 2:30 p.m. (CT) on Sept. 3 at Kinnick Stadium.  Tickets are available on hawkeyesports.com.