Hawkeye Fan Shop — A Black & Gold Store | 24 Hawkeyes to Watch 2016-17 | 2016 Iowa Soccer Schedule
Editor's Note: The following first appeared in the University of Iowa's Hawk Talk Daily, an e-newsletter that offers a daily look at the Iowa Hawkeyes, delivered free each morning to thousands of fans of the Hawkeyes worldwide. To receive daily news from the Iowa Hawkeyes, sign up HERE.
By JAMES ALLAN
hawkeyesports.com
IOWA CITY, Iowa — The University of Iowa soccer team strengthened its team unity for the 2016 season at 30 feet.
 
On Aug. 6 — the fourth day of preseason fall camp — the Hawkeyes tackled a High Adventure Challenge Course — a ropes course offering of University of Iowa Recreation Services.  The team worked on both the low and high elements of the course.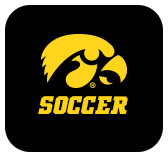 "We have such a new program in terms of new faces; this was important," said UI head coach Dave DiIanni. "It hit on a lot of the factors we have spoken about in terms of trust, commitment, being engaged, being both a good leader and follower, and listening."
 
DiIanni didn't know the high ropes course was part of the day's agenda, but it turned out to be one of the most beneficial aspects for the team.  The high elements are roughly 30 feet off the ground and are intended to give individuals a chance to step outside their comfort zones.
 
"Even though we struggled through it, everyone completed it," said DiIanni. "Our kids were supportive and spoke a lot about lack of negativity, learning, and being receptive to new ideas.  That's something that has become evident through camp — our kids are open to listening to each other."
 
Redshirt junior Rachele Armand called the experience awesome, but terrifying.  She says the exercise strengthened the team's trust.
 
"You're walking on a thin line, so you have to trust the person you're with," said Armand. "The four people behind you on your team are holding you up so you have to trust that they're doing their job to make sure you stay in line."
 
The experience didn't come without failure.  Groups fell, but they got up and pushed forward.
 
"People fell off, but we wouldn't let them fall down because we wanted them to finish the course," said Armand. "Finishing meant you accomplished something. It was exciting seeing all of your teammates finish and cheering everyone on.  We all came together."
 
The Hawkeyes became one. That's important when considering 19 student-athletes on the 31-player roster are underclassmen.  Nine are true freshmen.  
 
"The experience showed everyone was willing to listen to ideas regardless of class or if you're a starter or not," said freshman Claire Graves. "That shows we are all working toward a common goal of winning and doing well in the Big Ten."
 
The ropes course was a piece in the season's journey.
 
"We spoke a lot about the process of what we are putting in day-to-day," said DiIanni. "In the end we'll get what we put in.  We can't cheat the system, whether than means being a Big Ten champion or qualifying for the Big Ten Tournament; our fate will be defined by what we put in each day.
 
"That's what the ropes course taught us.  You identify lack of ego, entitlement, and hope that when we do face adversity this season we can go back to what we learned at the ropes course."
 
The Hawkeyes host Northern Iowa in an exhibition game on Friday at 7 p.m. (CT) at the Iowa Soccer Complex.  Iowa opens the regular season at Creighton on Aug. 19 in Omaha, Nebraska.