Hawkeye Fan Shop — A Black & Gold Store | 24 Hawkeyes to Watch 2016-17 | Purchase Single-Game Tickets | 2016 Football Fall Camp Central | Photo Gallery
By JAMES ALLAN
hawkeyesports.com
IOWA CITY, Iowa — The rumors were flying about the injury status of C.J. Beathard, but when the University of Iowa football team took the field for its annual Kid's Day at Kinnick on Saturday afternoon, the senior quarterback was in tow.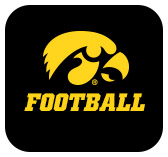 "I caught wind yesterday in the office that (C.J.) had a broken ankle or something like that," said UI head coach Kirk Ferentz following the approximately 2 1/2-hour practice/scrimmage in front of 11,739 fans in attendance. "That was the buzz out there; be careful on those rumors."
 
Beathard did miss time last week — two days and three practices — with a sprained left knee.  During live drills, a linebacker blitzed and running back LeShun Daniels, Jr., picked it up.  The linebacker fell to the ground and rolled into Beathard's prized limb.
 
"I was nervous at first," said Beathard of when the injury occurred. "When it happened it could have been a lot worse.  It didn't look good, but I met with the doctors and it ended up being a sprain. 
 
"It was accidental; it's a part of sports. I am lucky and blessed it wasn't anything more serious."
 
Friday was Beathard's first day back at practice since suffering the injury, brace and all.  It's a necessary precaution, one he says he needs to take. He wants and needs the reps before the start of the 2016 season.
 
"I am nowhere near where I want to be," he said. "I have a lot of improving to do.  Missing practice stinks, it is tough not being out there and working with those guys.
 
"Luckily for me, this is my fifth year in the system, so I know the offense more than anybody else on the team. Last year I sat out a lot of practices during the season, so I know how to take the mental reps. Luckily I am back out there now, getting the reps I need."
 
Saturday's practice was the team's first in Kinnick Stadium this season.  It was a nice change up to the grind of fall camp.
 
"It's always good to come inside the stadium, get the feeling of the stadium, and have the crowd in front of you," said senior defensive back Desmond King. "It's good to give back to the kids and the community.  This was a great day."
 
Before signing autographs, the 2016 Kid Captains were introduced and they swarmed out of the tunnel with the several Hawkeyes.  It was one of those "moments" for King.
 
"That's one of those times where you realize what you're giving and what these kids are giving," said King. "You take back and realize what you have and you can see other kids going through more than us.  It feels good to put a smile on their faces."
 
With the start of the fall semester approaching and camp winding down, Ferentz points to the coming week as key for the team.
 
"We have 12 workouts done," said Ferentz. "We have put in a lot of good work and the attitude has been good.  We have a big week in front of us. We have to keep our foot on the gas and keep improving individually."
 
The Hawkeyes open the 2016 season Sept. 3, hosting Miami (Ohio) at 2:30 p.m. (CT).  Tickets are available by contacting the UI Athletics Ticket Office or visiting hawkeyesports.com.