24 Hawkeyes to Watch 2016-17 | Photo Gallery
IOWA CITY, Iowa — The University of Iowa women's soccer team defeated Northern Iowa, 2-0, Friday night in an exhibition contest at the Iowa Soccer Complex. The match consisted of three 30 minute periods.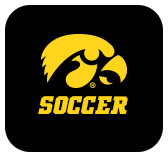 "Going into this game we had a script that we wanted to get players certain minutes, but not overload them too much.  We accomplished that." said UI head coach Dave Diianni. "We talked a lot about being competitive and committing to defending as a unit."
 
Iowa was neck-and-neck in shots with Northern Iowa in the first period, the Hawkeyes eventually put the pressure on the Panthers defense in the second and third periods to take command.  
 
Redshirt sophomore Jenna Kentgen and senior Bri Toelle were responsible for the two goals that led Iowa to its first victory of the season.
 
Kentgen scored in the 55th minute following an assist from freshmen Hannah Drkulec and Olivia Fiegel.  Kentgen's header hit the cross bar before trickling into the goal to give the Hawkeyes a 1-0 lead.
 
Iowa added to its lead in the final period on a penalty kick goal from Toelle.  Fiegel was taken out when going for a loose ball in the box, which led to the PK.
 
Freshman Claire Graves made two saves in goal to earn the win.  She was one of four Hawkeye goalkeepers to see action on the night in a combined shutout. 
 
Iowa out-shot the Panthers, 21-7, and had four corner kicks.
 
"We were able to get better throughout all three 30 minute periods and our shape was good offensively," said Diianni. "You could tell we had some nerves, with six freshmen starting. Overall, it was a good first game and it gave our young players a chance to see someone other than their teammates."
 
Iowa opens the regular season at Creighton on Aug. 19 at 7 p.m. (CT).