Hawkeye Fan Shop — A Black & Gold Store | 24 Hawkeyes to Watch 2016-17 | Purchase Single-Game Tickets | 2016 Football Fall Camp Central
By RICK BROWN
hawkeyesports.com
Leading up to the 2016 season opener against Miami of Ohio on Sept. 3 at Kinnick Stadium, hawkeyesports.com's Rick Brown is taking a game-by-game look back at the University of Iowa's historic 2015 season.
With perspective from Iowa head coach Kirk Ferentz, his staff and players, we hope to give you some insight into a season that will never be forgotten.
Iowa 40, Minnesota 35
Nov. 14, 2015, Kinnick Stadium
Iowa City, Iowa
 
Kinnick Stadium under the stars was electric in this annual duel for Floyd of Rosedale, and you'll never believe what nearly pulled the plug on the fun.
 
It was an Iowa touchdown.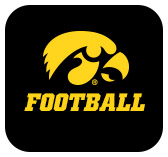 The Hawkeyes were leading, 33-28, and had the ball in a second-and-six situation at its own 49. Just 2:10 remained in the game, and Minnesota was out of time outs. One more first down and Iowa could go into victory formation.
 
"They had gone to a goal-line look, there was a timeout and we were discussing, 'OK, what do you think are our best calls?'" offensive coordinator and quarterbacks coach Greg Davis recalled. "Brian (Ferentz) said, 'What do you think about this?' I said, 'That's a great suggestion here.' So that's what we called."
 
Quarterback C.J. Beathard handed off to LeShun Daniels, Jr., who juked Minnesota safety Adekunie Ayinde four yards downfield and went 51 yards for a touchdown. The crowd went crazy.  So did Brian Ferentz.
 
 "He gave me credit for that call?" said Iowa's offensive line coach and run-game coordinator. "That's why he gave me credit for it, because it was the only way we could have lost the game. We knew it right as he was running down the sideline. That is bad coaching, is really what that was. Because it should have been very clearly communicated that, hey, if we make a first down here the game is over. If you get in the open field, you get on the ground."
 
Defensive coordinator Phil Parker gave Daniels an earful after the run, too.
 
"Yea, the defense wasn't too happy with me at all," Daniels said. "Coach Parker was yelling, 'Next time go down, take a knee, and run out the clock.' It still ended up working out for us because we got the victory."
 
But taking a knee with nothing but green in front of you?
 
"I just saw the end zone," Daniels said. "Going down didn't even cross my mind. I made him miss and I was like, 'OK, I'm going to score. I wasn't going to get caught.'"
 
Daniels finished the night with a career-high 195 yards rushing and three touchdowns. But his run still gave the Gophers a glimmer of hope.
 
"They were playing a goal-line defense," Brian said. "I thought there was no way he was going to break free. I didn't think the free safety would miss the tackle. He did. It was a good run, and it's on all the highlight videos, and I cringe every time I watch it because it was awful coaching. We put our defense in a bad situation. And then we put our special teams in a really bad situation."
 
Minnesota quarterback Mitch Leidner's first thought as he watched Daniels race down the field?
 
"We still had a chance," Leidner said.
 
The Gophers had given Parker's defense fits all night long. Leidner had thrown a 40-yard touchdown pass to Brandon Lingen in the second quarter, and Shannon Brooks threw a halfback pass to Drew Wolitarsky for a 42-yard touchdown pass in the fourth quarter. Leidner also had a 37-yard completion to K.J. Maye, one of his seven receptions. Every time Iowa scored, Minnesota answered.
 
"It was fun, especially playing in front of such an electric crowd," Leidner said. "There had been that wrestling match earlier in the day, then they came out with new (all black) uniforms. And we had things clicking on all cylinders. People couldn't hear me and I'm screaming because it's so loud in there. But it was definitely a fun game."
 
The Iowa crowd broke out into an I-O-W-A chant after Daniels' touchdown that could be heard two miles from Kinnick Stadium. It continued as Minnesota marched 75 yards in six plays for a touchdown to make it a 40-35 game with 1:16 to play. And things got real quiet inside Kinnick Stadium. An onside kick was coming. Nervous time for the Hawkeyes.
 
"Getting the ball in your hands when nobody thinks that you have a chance, and then being able to go down and score and almost get the onside kick…I think we would have gone down and scored because we had momentum," Leidner said.
 
But the comeback ended when Ryan Santoso's onside kick went out-of-bounds.
 
"It's easy to laugh about now because we won the game," Brian Ferentz said. "But you don't want to be in that spot any time you have to recover an onside kick to win a football game."
 
Minnesota had 434 yards of total offense that night against Iowa. The Hawkeyes countered with a season-high 506.
 
"Minnesota had us going and it was a back-and-forth game," Parker said. "They hit us with three big plays in that game that opened things up. To me, when the game is over I say, 'Hey, we can run the clock out and then we don't have to worry about defending.' It's a lot easier playing defense when our offense has the ball."
 
Iowa linebacker Josey Jewell said the defense was out of gas at the end of the high-octane game.
 
"We were pretty tired at that point," Jewell said. "And after (Daniels) scored that touchdown, they had a big drive against us. If would have been nice if he fell down. But that's the way it played out. We had to try and stick it out."
 
Jewell, a star running back at Decorah High School, understood what Daniels was thinking.
 
"If you see a touchdown in front of you, I don't know if you want to lay down," Jewell said. "It goes against everything. But I guess it's smart sometimes to lay down and take one for the team."
 
Iowa head coach Kirk Ferentz said that situation has been discussed by the coaching staff in the offseason.
 
"That's a hard one," Ferentz said. "I get the argument, but I don't get it, either."
 
As it turned out, Daniels' long run didn't short-circuit the night of fun at Kinnick Stadium.
 
"That was a special night" Ferentz said. "Really special."
About the Author
Rick Brown is a native of Fort Dodge, Iowa, and a University of Iowa graduate. He covered Iowa athletics for the past four decades for the Des Moines Register prior to his retirement in December.