By JACK ROSSI
hawkeyesports.com
 
IOWA CITY, Iowa — With nine freshmen on the roster this year, the University of Iowa soccer team is not the same squad as it was in 2015 and it all starts up front.
 
At the Hawkeyes' media day Wednesday UI head coach Dave Dilanni stressed the idea that last year is in the past and this year's team can accomplish much more with help from a group of young, athletic, and talented forwards.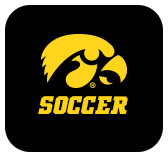 "We are inexperienced," Dilanni said. "But they are some good, talented kids; they just have to grow up quickly if we are going to score at a good clip. We are working on that by mentoring them and showing them film."
 
The team is only a few days removed from its first taste of game action — an exhibition win over Northern Iowa on August 12. It was a chance for the team and its freshmen to get a feel for live action.
 
"It was nice to be with the team and play against another team that wasn't during practice," freshman Devin Burns said. "It was helpful to able to go at it hard, play with the other forwards, and work off each other to gain experience."
 
After reviewing game film, the team honed in on specific areas that need attention in the final stretch until the team's season opener.
 
"The film from the UNI game spoke volumes in that we need to get better in that area of the field," Dilanni said. "But we didn't give up a goal and got everybody playing time, which is always good in terms of team chemistry."
 
In addition to the coaches' mentoring, senior Bri Toelle has the added task of guiding the freshmen on the field. The Gainesville, Virginia, native enters the season as the team's top offensive weapon after leading the Hawkeyes in goals and assists in 2015. Toelle is the only forward to have scored a goal in this revamped lineup.
 
"With experience, the best thing I can do is communicate with them and if they make mistakes, be able to explain to them what I have learned so they don't make the mistake again," Toelle said. "I think communication is the biggest thing.
 
"We have been coming out and grinding every single day and we've seen a ton of growth. The freshmen are athletic and we have a lot of speed and that will be very helpful."
 
The freshmen are not the only players expected to take their game to the next level. Dilanni expects Toelle's production to jump with added help this season.
 
"Bri has to lead by example for us to be able to have a foundation for others to fall into," Dilanni said. "As we have more tools around her, which we do, she will have more success."
 
The Hawkeyes open the regular season Friday, August 19, at Creighton. The game is slated to begin at 7 p.m. (CT).