24 Hawkeyes to Watch 2016-17 | 2016 Iowa Soccer Media Guide | Game Notes — Creighton/Missouri
Editor's Note: The following first appeared in the University of Iowa's Hawk Talk Daily, an e-newsletter that offers a daily look at the Iowa Hawkeyes, delivered free each morning to thousands of fans of the Hawkeyes worldwide. To receive daily news from the Iowa Hawkeyes, sign up HERE.
By JAMES ALLAN
hawkeyesports.com
 
IOWA CITY, Iowa — Claire Graves felt the weight of her No. 1 University of Iowa soccer uniform when she slid it on for the first time.
 
"Everyone was like 'It's Hannah's jersey, it's legends stuff,'" explained Graves on Wednesday during Iowa's annual media day. "That was more motivation to come out and play as well as I can."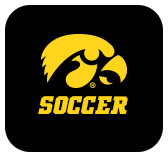 For the last four seasons, the No. 1 Hawkeye jersey belonged to goalkeeper Hannah Clark, who finished her UI career as one of the program's all-time greats.  Clark started parts of four seasons and finished as the school record-holder in career wins (36) and shutouts (26).
 
Clark is now playing professionally in Sweden leaving a quartet of Hawkeyes fighting for her position between the posts.  It's Graves — a true freshman — along with junior Tina Cardamone, sophomore Emma Rigby, and freshman Cora Meyers. 
 
"It's hard to replace Hannah as she is, but we have options," said UI head coach Dave DiIanni. "Claire is a different version of Hannah, but has some similarities. Cora has great potential, Emma had a good spring and Tina. 
 
"We replace them with competition. The four of them push each other to be better every day. The best player plays on that day."
 
It's a competition amongst friends, one that is helping every player improve.
 
"It pushes all of us," said Graves, who won 42 games and was a three-time all-state selection at Noblesville (Indiana) High School. "We're all encouraging and are there for each other.  That creates a great training environment, one that fosters a good experience."
 
Iowa's four goalkeepers have a combined 33 minutes, 37 seconds of collegiate game action entering the 2016 season. That came by the way of Rigby, who served as Clark's understudy last season. She made two saves, appearing in two contests.
 
"I am lucky to have been able to play with Hannah because she was a good mentor," said Rigby. "It is nice being able to take parts of what she gave to this team in terms of her confidence, keeping your head up, and always pushing."
"It pushes all of us. We're all encouraging and are there for each other.  That creates a great training environment, one that fosters a good experience." — Claire Graves, freshman goalkeeper
 
Graves emerged as the early leader, earning the start in Iowa's 2-0 exhibition victory over Northern Iowa on Aug. 13. She'll be in goal this weekend when the Hawkeyes hit the road to open the regular season with matches at Creighton (Friday) and Missouri (Sunday).
 
"Claire is an older soul, she's very mature and that's what you need in that position," said DiIanni.  "She is good post-to-post, is a great leader, and commands and dictates leadership back there in direction and she can make big saves, but she is a freshman."
 
The Hawkeyes will rely on their defenders early in the year to make sure the transition is smooth.
 "We're experienced in front of Claire with Corey (Burns), Morgan (Kemerling), Rachele (Armand), Amanda (Lulek), and (Hannah) Drkulec is the best athlete on the team.  We're not going to get exposed.
 
"Hopefully we can feel our way through the nonconference portion of our schedule, Claire can get her feet wet, and when we get into the Big Ten schedule we'll be better off."
 
Friday's game will be streamed live on Jays Video at gocreighton.com.  Sunday's game at Missouri will be streamed live on SEC+ on WatchESPN.