Hawkeye Fan Shop — A Black & Gold Store | 24 Hawkeyes to Watch 2016-17 | 2016 Iowa Soccer Media Guide | Game Notes — Creighton/Missouri
THE MATCH-UP
The University of Iowa soccer team opens the regular season Friday, facing Creighton at 7 p.m. (CT) at Morrison Stadium in Omaha, Nebraska. The Hawkeyes round out the weekend with a road date at Missouri on Sunday. The game is set to begin at 1 p.m. (CT) from Audrey J. Walton Stadium in Columbia, Missouri.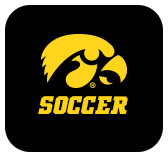 WATCH/FOLLOW LIVE
• Friday's game at Creighton will be available online on Jays Video at gocreighton.com.
• Sunday's game at Missouri will be broadcast on SEC+, which can be found on ESPN3.com.
• Live stats for both contests will be available on hawkeyesports.com by visiting the Iowa soccer schedule page.
• Fans can follow the action live with game updates via @HawkeyeSoccer on Twitter.
QUICK HITTERS
• Iowa has 22 letterwinners and six starters returning from a team that won seven games in 2015.
• The Hawkeyes posted a 2-0 victory in their exhibition victory over Northern Iowa on Aug. 13. Sophomore Jenna Kentgen and senior Bri Toelle scored Iowa's goals, and freshman Claire Graves made two saves in goal. Iowa out-shot UNI, 21-7.
• Twenty-six players saw action in the exhibition, including all four goalkeepers.
• Iowa has won its last four season openers, including two under head coach Dave DiIanni.
SCOUTING CREIGHTON
The Bluejays went 1-1 in two exhibition contests, falling 3-0 to Kansas before posting a 5-0 victory over Hastings College.
• Creighton was picked to finish seventh in the preseason BIG EAST poll in a vote of the league's 10 head coaches.
• The Bluejays have 11 letterwinners and seven starters returning from a team that won 10 games in 2015. Sixteen of the 28-player roster are newcomers.
SCOUTING MISSOURI
• Missouri tied its exhibition contest at No. 9 North Carolina, 1-1, on Aug. 13. The Tigers also faced Duke during its preseason exhibition slate.
• The Tigers return eight starters and 15 letterwinners from a team that went 9-5-5 and finished second in the SEC.
• Mizzou was picked to finish sixth in the SEC preseason coaches poll.
THE SERIES
• Iowa is 5-1 in all-time against Creighton, winning the most recent matchup, 2-0, in 2008. The Hawkeyes last played in Omaha in 2007, coming away with a 1-0 victory.
• The Hawkeyes are 0-8 all-time against Missouri. Iowa faced the Tigers each year from 2003-09, dropping a 3-2 decision in the most recent meeting in 2009.
RETURNEES BY NUMBERS
• Offensively, the Hawkeyes return 65 percent (13 of 20) of the team's goals from 2015 and 94 percent (15 of 16) of the team's assists. Iowa has three of its four starting defenders returning (Rachele Armand, Karsen Rauch, and Amanda Lulek), but the team's four goalkeepers have a combined 33 minutes of game experience and two saves.
QUICK HITTERS
• The Hawkeyes return their team Offensive, Defensive, and Newcomer of the Year honorees from the 2015 season.
• Karly Stuenkel was the team's Offensive MVP after scoring five goals as a sophomore, tying for the team lead.
• Redshirt junior Rachele Armand was the Co-Defensive MVP and Team Newcomer of the Year in her first season as a Hawkeye. The Louisville transfer helped Iowa post six shutouts in 2015.
REDSHIRT RETURNEES
• The Hawkeyes get a boast in terms of returning redshirts in 2016. Juniors Corey Burns and Natalie Krygier are back after seeing little or no playing time last season.
• Burns played in three games in 2015 before suffering a season-ending injury, while Krygier missed the entire season because of injury. Both players started all 20 games in 2014 during Iowa's 14-win season, where it advanced to the Big Ten Tournament title game.
• The Hawkeyes also get back redshirt sophomore Jenna Kentgen, who started seven games in 2015 before suffering a season-ending injury. The midfielder scored one goal — a game-winner — and tallied an assist in limited action.
GOALKEEPER BATTLE
The Hawkeyes have four goalkeepers on the 2016 roster in junior Tina Cardamone, sophomore Emma Rigby, and freshmen Claire Graves and Cora Meyers. The quartet has a combined 33 minutes of game action as collegians.
Graves earned the start in the exhibition win over UNI. As a prep, she was a three-time all-state, all-district, and all-county selection at Noblesville High School in Indiana. She won 42 games during her high school career, including 12 victories as a senior.
FRESHMEN PHENOMS
• Iowa's nine player freshmen class was ranked as the 28th-best recruiting class in the nation by BigSoccer.com.
• Six freshmen — Claire Graves, Isabella Blackman, Natalie Winters, Hannah Drkulec, and Devin Burns, including one redshirt, Kaleigh Haus, were in the starting lineup in Iowa's exhibition win over Northern Iowa. All nine freshman saw action against Northern Iowa.
• Two freshmen — Natalie Winters and Hannah Drkulec — have national team experience. Winters has competed in six U18 Women's National Team camps, while Drkulec played on the Croatian Women's National Team in 2015.
FORWARD BREAKDOWN
• The Hawkeyes will pair youth with an old reliable at the forward position in 2016. Senior Bri Toelle scored five goals — tying for the team lead — as a forward last season and she has 12 career goals as a Hawkeye. She'll be paired with underclassmen, leading Iowa's offensive charge.
• Redshirt sophomore Rose Ripslinger, redshirt freshman Kaleigh Haus, and freshman Devin Burns earned starts in the exhibition victory over Northern Iowa on Aug. 13. Another true freshman — Olivia Fiegel — saw significant action.
PUT TO THE TEST
• Iowa won't shy away from the competition during the nonconference season, as the Hawkeyes will face opponents from the Big East (Creighton), SEC (Missouri), Pac-12 (Colorado), and Big 12 (Iowa State). All four games will be played on the road.
TEAM CAPTAINS
Juniors Rachele Armand and Corey Burns are Iowa's team captains for the 2016 season.
COACHING STAFF CHANGES
The Hawkeyes have two new additions to the coaching staff for the 2016 season in interim assistant coach Nate Castillo and volunteer assistant Chris Early. Both are UI alums. Castillo joins the program after serving as a high school assistant coach at City High in Iowa City, while Early was an assistant coach at Northwestern State last season.
ON THE HORIZON
The Hawkeyes play a neutral site game against Eastern Michigan on Aug. 26 in Minneapolis before hosting Wyoming on Aug. 28 in their regular season home opener.