24 Hawkeyes to Watch 2016-17 | 2016 Iowa Soccer Media Guide | Box Score (PDF) | Boxscore
COLUMBIA, Mo. — The University of Iowa women's soccer team defeated Missouri, 2-1, in overtime Sunday afternoon at the Audrey J. Walton Stadium in Columbia. Both Iowa and Missouri moved to 1-1 on the young season as a result of Sunday's match.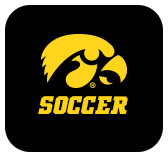 "Today was a good day for a lot of reasons," said UI head coach Dave DiIanni. "It gave our young team an opportunity to see some things for the first time. We need to play against teams like Missouri, who have a tradition of success, athleticism and a unique style."
 
Missouri's Melanie Donaldson scored the lone goal for Missouri, in the 17th minute giving the Tigers a 1-0 lead heading into the second half.
 
In the 83rd minute, UI freshman Devin Burns evened the match with a goal assisted by senior Amanda Lulek. Finishing 90 minutes tied 1-1, the Hawkeyes and Tigers headed to overtime.
 
Five minutes into the extra session, freshman Isabella Blackman netted the winning goal in the 95th minute, with the assist from redshirt freshman Kaleigh Haus, giving the Hawkeyes their first win of the season.    
 
"We didn't handle the pressing and athletic wide play the first 25 minutes of the game," said DiIanni.  "To be honest we were lucky to have only been down 1-0, however we made some substitutions and calmed our nerves, which allowed us to build a little confidence going into halftime and regroup."
 
UI goalkeeper Claire Graves stopped seven of eight shots on goal. The freshman from Noblesville, Indiana, earned her first career win between the posts.
 
"I am really proud in our ability to defend them out wide, especially with how poor we were in that area of the field against Creighton," said DiIanni. "We spoke a lot about being committed to a system, each other, and a style of play and if we did that eventually good things will happen. This was a big win to come home with, but it won't mean as much if we don't build off the momentum this next week in training."
 
The Hawkeyes return to action Friday, facing Eastern Michigan at a neutral site in Minneapolis. Match time is set for 4:30 p.m. (CT).