Hawkeye Fan Shop — A Black & Gold Store | 24 Hawkeyes to Watch 2016-17 | Hawkeyes in the NFL | Purchase Single-Game Tickets
By RICK BROWN
hawkeyesports.com
 
Leading up to the 2016 season opener against Miami of Ohio on Sept. 3 at Kinnick Stadium, hawkeyesports.com's Rick Brown is taking a game-by-game look back at the University of Iowa's historic 2015 season.
With perspective from Iowa head coach Kirk Ferentz, his staff and players, we hope to give you some insight into a season that will never be forgotten.
Iowa 40, Purdue 20
Nov. 21, 2015, Kinnick Stadium
Iowa City, Iowa
 
The Kinnick Stadium scoreboard said it all.
 
"B1G West Division Champions," it proclaimed as Iowa players and coaches ran off the field after clinching a spot in the conference title game and remaining undefeated.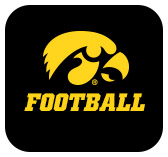 Inside, West Division championship t-shirts and hats were passed around. It was all a bit unsettling to Iowa head coach Kirk Ferentz.
 
"You get nervous about that," Ferentz said of the celebratory locker room. "Because we had another game."
 
Six days later, the Hawkeyes would close out the regular season at Nebraska on Black Friday. Ferentz was already concerned that his team, zeroed in on the "one game at a time' mantra all season, might lose their edge heading to Lincoln.
 
In fact, the coach never mentioned winning the West, and a berth in the Big Ten Championship game in Indianapolis, during the week leading up to the Purdue game.
 
"Our focus was strictly on winning the game, and not getting too global with our thoughts," Ferentz said. "The media started bringing all that stuff up well before we were ever thinking about it. The best way to get that done was to keep winning. It's pretty simple.
 
"It was the same way with the national picture. If you want to be in that national title picture, just win all your games. All that stuff takes care of itself. But you better focus on what's in front of you. We knew Purdue was a very dangerous team."
 
It was the final Kinnick Stadium game for 21 seniors, and a real holiday spirit surrounded the day. Iowa's undefeated record was part of that. So was an overnight snowstorm that had snowplows clearing the field hours before kickoff. The wind chill was 10 degrees at kickoff.
 
Iowa jumped out to a 20-0 lead one possession into the second quarter, and a Purdue team that came to Kinnick with a 2-8 overall and 1-5 in Big Ten play had every reason to cash in their chips and let the Hawkeye celebration begin. But that didn't happen.
 
"They played hard, and made it tough on us," Ferentz said
 
Purdue head coach Darrell Hazell's team found a second wind, and made things mighty interesting before this one was over.
 
"I have a lot of respect for what Darrell has done there," Ferentz said. "He's quietly built that thing. I think they're improved. That quarterback (Austin Appleby) seemed to give them a lift. He played well against us; they weren't going to roll up and go home. With the weather, you thought maybe that would give them some incentive to get out of here fast, but they were not of that mindset at all."
 
Appleby replaced starter David Blough at quarterback and the offense found a rhythm. The Boilermakers cut the deficit to 20-10 at halftime.
 
"There was a lot of fight in our guys," Hazell said.
 
Purdue got the ball to start the third quarter, with plenty of momentum on its underdog side. A field goal on the Boilermakers' first drive of the third quarter narrowed the deficit to 20-13. It could have gotten even closer.
 
"We definitely had them on their heels," Purdue wide receiver DeAngelo Yancey recalled. "And then I dropped two passes for touchdowns."
 
After Purdue's Jake Replogle sacked Iowa quarterback C.J. Beathard to force a punt on the game's next possession, the Boilermakers marched down the field for a would-be tying touchdown. But on a second-and-10 play from the Iowa 34, Yancey broke free on a seam route but dropped Appleby's potential game-tying touchdown pass.
 
"I looked up instead of out, the ball got past my eyes and I couldn't get to it," Yancey said.
 
On the next play, Jordan Lomax deflected Appleby's pass and an open Yancey couldn't pull it in.
 
"The defender was running past me, and he had to try and intercept the pass," Yancey said. "It went through his hands and then hit me in the chest. I just couldn't get my eyes on it."
 
Opportunity lost.
 
"We have to make those critical plays," Hazell said. "Who knows the outcome of the game if we make those plays?"
Purdue ended up punting after Yancey's second drop, and Beathard led his team 91 yards in eight plays to make it a two-possession game again at 27-13. Beathard hooked up with tight end George Kittle, who released from his block and ran a seam route untouched for the 35-yard touchdown.
 
A 22-yard Beathard-to-Henry Krieger Coble touchdown pass followed to make it a 33-13 game with 8:40 remaining. And after Purdue scored one more touchdown, senior running back Jordan Canzeri said goodbye to Kinnick Stadium with a 42-yard touchdown scamper.
 
Like Ferentz, Iowa defensive coordinator Phil Parker is a "one game at a time" kind of guy. Clinching the Big Ten's West Division title was never part of his preparation for the Boilermakers, either.
 
"I'm all about what we have to do to win this game," Parker said. "You start looking ahead, and I think it takes your focus off of what you need to do during the game. I've never been, 'Hey, if we win this…' I think if you can keep doing that with your guys, they'll understand that all that other stuff takes care of itself."
 
So the hats and t-shirts came out, and Ferentz got a bit nervous. One game at a time meant the regular-season finale at Nebraska. A chance to win a school-record 12th game. A chance to remain undefeated.
 
Turns out Ferentz had nothing to worry about.
About the Author
Rick Brown is a native of Fort Dodge, Iowa, and a University of Iowa graduate. He covered Iowa athletics for the past four decades for the Des Moines Register prior to his retirement in December.