Hawkeye Fan Shop — A Black & Gold Store | 24 Hawkeyes to Watch 2016-17 | Game Notes – Eastern Michigan | Wyoming
THE MATCH-UP
The University of Iowa soccer team travels to Minneapolis on Friday for a neutral site match-up against Eastern Michigan at 4:30 p.m. (CT) at Elizabeth Lyle Robbie Stadium.The Hawkeyes round out the weekend by hosting Wyoming in their regular season home opener on Sunday at noon at the Iowa Soccer Complex. Admission is free.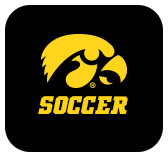 WATCH/FOLLOW LIVE
• Live stats for both contests will be available on hawkeyesports.com by visiting the Iowa soccer schedule page.
• Sunday's game against Wyoming will be streamed live on Hawkeye All-Access on hawkeyesports.com.
• Fans can follow the Iowa soccer program on Twitter (@HawkeyeSoccer) for live game updates.
PROMOTIONS 
• Flipcards will be provided to the first 500 fans through the gate. 
• All fans can enter to win a pair of tickets to the Sept. 3 Iowa football game against Miami (Ohio). 
• The Hawkeye student-athletes will be available after the match to sign autographs. 
QUICK HITTERS
• Iowa has 22 letterwinners and six starters returning from a team that won seven games in 2015.  
 • Iowa has started at least five freshmen in each of its first two games and nine of the 10 freshmen on the roster have seen game action.  The Hawkeyes started six freshmen in the season-opener at Creighton.
• The Hawkeyes defeated Missouri, 2-1, in overtime on Aug. 21.  It was the program's first win over the Tigers in 10 chances and just the second victory of a Southeastern Conference opponent all-time.
• Iowa is tied for third in the Big Ten in goals (five), points (14), and assists (four) in their first two games.  
SCOUTING EASTERN MICHIGAN
• Eastern Michigan returns an experienced squad to the field in 2016, with seven seniors on the roster.
• The Eagles have played only one match this season — a scoreless draw against Butler on  Sunday, Aug. 21. 
• EMU returns its two top scorers from last season in redshirt sophomore Kristen Nason and senior Michelle Rollins. Nason scored seven goals, while  Rollins had three strikes. 
SCOUTING WYOMING
• Wyoming returns five seniors to this year's squad, along with 10 juniors, seven sophomore, and six freshmen. 
•  The Cowgirls are 2-0 this season, posting victories over Houston Baptist (2-0) and Idaho State (2-0)
• Goalkeeper Georgia Rowntree has saved seven goals this season, the junior started in all 16 games last season, completing 33 saves on the season. 
THE SERIES
•  Iowa has met Eastern Michigan only once on the field. The Hawkeyes defeated the Eagles, 2-1, in a home match during the 2006 season. 
•  The Hawkeyes have never faced Wyoming. 
RETURNEES BY NUMBERS
• Offensively, the Hawkeyes return 65 percent (13 of 20) of the team's goals from 2015 and 94 percent (15 of 16) of the team's assists. Iowa has three of its four starting defenders returning (Rachele Armand, Karsen Rauch, and Amanda Lulek), but the team's four goalkeepers have a combined 33 minutes of game experience and two saves.
IN GOAL
•  Freshman Claire Graves has played every minute in goal for the Hawkeyes early in the 2016 season.  The Indiana native has faced 43 shots in 184 minutes in goal, where she has made 13 saves – the second-most in the Big Ten.  Graves made a career-high seven saves at Missouri en route to her first career victory.
QUICK HITTERS
• The Hawkeyes return their team Offensive, Defensive, and Newcomer of the Year honorees from the 2015 season.  
• Karly Stuenkel was the team's Offensive MVP after scoring five goals as a sophomore, tying for the team lead.  
•  Redshirt junior Rachele Armand was the Co-Defensive MVP and Team Newcomer of the Year in her first season as a Hawkeye.  The Louisville transfer helped Iowa post six shutouts in 2015.
REDSHIRT RETURNEES
• The Hawkeyes get a boast in terms of returning redshirts in 2016.  Juniors Corey Burns and Natalie Krygier are back after seeing little or no playing time last season.  
• Burns played in three games in 2015 before suffering a season-ending injury, while Krygier missed the entire season because of injury.  Both players started all 20 games in 2014 during Iowa's 14-win season, where it advanced to the Big Ten Tournament title game.
• The Hawkeyes also get back redshirt sophomore Jenna Kentgen, who started seven games in 2015 before suffering a season-ending injury.  The midfielder scored one goal — a game-winner — and tallied an assist in limited action.
FRESHMEN PHENOMS
• Iowa's nine player freshmen class was ranked as the 28th-best recruiting class in the nation by BigSoccer.com.  
• Two freshmen — Natalie Winters and Hannah Drkulec — have national team experience.  Winters has competed in six U18 Women's National Team camps, while Drkulec played on the Croatian Women's National Team in 2015.
FORWARD BREAKDOWN
• The Hawkeyes will pair youth with an old reliable at the forward position in 2016.  •  Senior Bri Toelle scored five goals — tying for the team lead — as a forward last season and she has 12 career goals as a Hawkeye.  She'll be paired with underclassmen, leading Iowa's offensive charge.  
1st TIMERS
• Four Iowa student-athletes — Devin Burns, Isabella Blackman, Kaleigh Haus, and Rachele Armand — scored the first goals of their Hawkeye careers during the opening weekend of the 2016 season.  Burns, Blackman, and Haus are all freshmen.  Blackman was credited with the game-winning goal in Iowa's 2-1, overtime victory at Missouri on Aug. 21.
• Redshirt sophomore Rose Ripslinger tallied the first point of her career in Iowa's season opener at Creighton.
PUT TO THE TEST
• Iowa won't shy away from the competition during the nonconference season, as the Hawkeyes will face opponents from the Big East (Creighton), SEC (Missouri), Pac-12 (Colorado), and Big 12 (Iowa State).  All four games will be played on the road.
TEAM CAPTAINS
Juniors Rachele Armand and Corey Burns are Iowa's team captains for the 2016 season.
COACHING STAFF CHANGES
The Hawkeyes have two new additions to the coaching staff for the 2016 season in interim assistant coach Nate Castillo and volunteer assistant Chris Early.  Both are UI alums.  Castillo joins the program after serving as a high school assistant coach at City High in Iowa City, while Early was an assistant coach at Northwestern State last season.
ON THE HORIZON
The Hawkeyes will continue their season-long three-game homestand, hosting Colorado State on  Sept. 2 and SIU Edwardsville on Sept. 4.