Behind the Scenes Video & Interviews | Kinnick Stadium Time Lapse | The Back Porch Revival
 
IOWA CITY, Iowa – The Back Porch Revival, a concert being put on by The Native Fund to provide assistance to Iowans in need, is being hosted inside the University of Iowa's Kinnick Stadium, this Saturday afternoon and evening.  This will be the first concert ever inside Kinnick Stadium.
 
Gates open at 1 p.m. Saturday, with the first of several country music artists set to perform at 3 p.m.  Concert headliner, Blake Shelton, is scheduled to perform from 9:30 to 11 p.m.  Additional performers include the Hunter Smith Band (3-3:30 p.m.), Morgan Frazier and David Ray (3:45-4:30 p.m.), Tucker Beathard (5-5:45 p.m.), Big and Rich (6:15-7:15 p.m.), and Thomas Rhett (7:45-9 p.m.)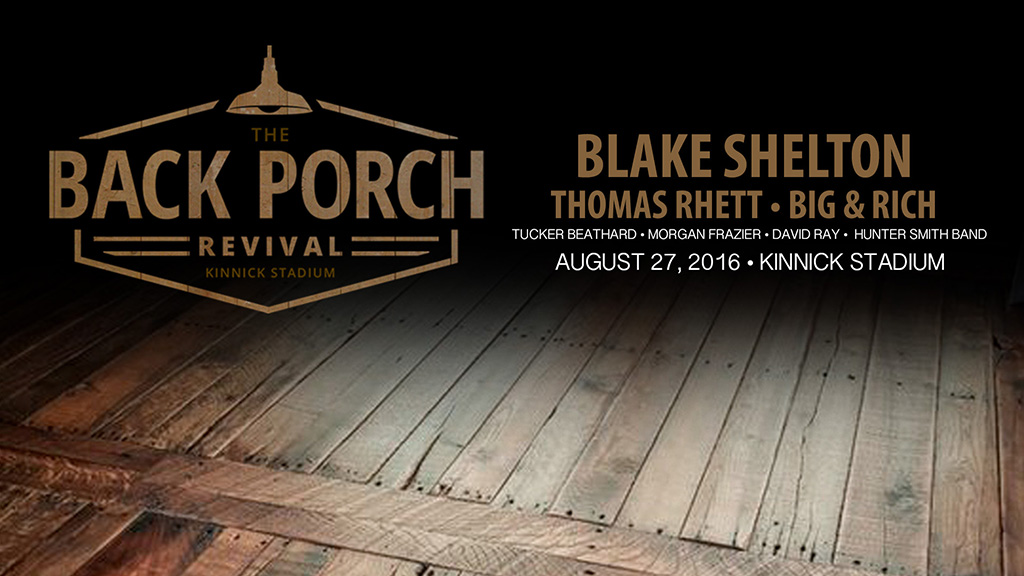 Tickets are on sale for the event, with prices ranging from $39 to $239, including standing-room-only in front of the stage, which is set in the south end zone of the stadium.  Tickets are available for purchase at thebackporchrevival.com.  Tickets will be available Saturday, but fans are encouraged to purchase their tickets in advance.  All individuals, regardless of age, need a ticket.
 
The normal clear bag policy for Kinnick Stadium will be enforced.  Clear bags that are no larger than 12″ x 6″ x 12″ will be allowed, along with clutch bags no larger than 4.5″ x 6.5″, binocular cases, blankets, seat cushions, one-gallon clear plastic bags, and sealed plastic water bottles.  Bag check service will be available at the Recreation Building for fans who bring items that are not allowed inside the stadium.
 
All concert parking lots will open at 10 a.m. Saturday morning.  Overnight parking will not be allowed on Friday or Saturday nights in University lots.  Prepaid parking will be available for purchase in lots around Kinnick Stadium at thebackporchrevival.com through midnight Friday.
 
Day of concert parking will be available for $20 per vehicle, in lots further from Kinnick Stadium – all lots adjacent to Kinnick Stadium are sold out.  Ramp 3, (at the northeast corner of Kinnick Stadium) is designated for ADA parking only and requires a state-issued ADA hangtag. 
 
RV parking is available at the Hancher parking lot.  The Hawkeye Express train – available for all home football games – will not be in service on Saturday.  Please visit thebackporchrevival.com for a complete list of available day-of-concert parking lots.
 
Free shuttle service will be provided by Cambus, beginning at 3 p.m. and running through midnight.  Cambus service will run from the Cambus transit stop downtown (Washington and Clinton Streets) and from the Hancher parking lot (adjacent to Hancher Auditorium) to the VA Hospital loop on Newton Road.
 
Due to road construction on Dubuque Street as part of the Gateway Project, concert-goers are encouraged to check traffic patterns at icgov.org/project/iowa-city-gateway-project.
 
Several Kinnick Stadium policies that are used for home football games will be in effect, including the clear bag, no re-entry and tobacco-free policies.  One major change is the sale of beer inside the stadium, and the beverage garden outside the north stands of the stadium.  Costs for beer include $6.50 for domestic and $7.50 for Iowa craft beer.  Customers will need to provide an ID and are limited to two drinks at a time.  Hard liquor will not be available for sale. Additionally, tailgating will not be allowed following the concert.
 
Further information can be found at thebackporchrevival.com, by emailing info@thebackporchrevival.com, or by clicking HERE.