Hawkeye Fan Shop — A Black & Gold Store | 24 Hawkeyes to Watch 2016-17 | Purchase Single-Game Tickets | 2016 Football Fall Camp Central
By RICK BROWN
hawkeyesports.com
 
Leading up to the 2016 season opener against Miami of Ohio on Sept. 3 at Kinnick Stadium, hawkeyesports.com's Rick Brown is taking a game-by-game look back at the University of Iowa's historic 2015 season.
With perspective from Iowa head coach Kirk Ferentz, his staff and players, we hope to give you some insight into a season that will never be forgotten.
Iowa 28, Nebraska 20
Nov. 27, 2015, Memorial Stadium
Lincoln, Neb.
 
Not a lot of 11-0 teams play with a chip on their collective shoulders. But Iowa did, on Black Friday at Memorial Stadium. Boone Myers explains.
 
 "We were dialed in for this game," said the versatile offensive lineman. "This was one of the games everyone was picking to sneak up and bite us. We knew we wanted to end the season strong going into the Big Ten Championship, and we wanted to get that fourth (traveling) trophy. That drove us… and we gave (Nebraska) one in 2014 (Iowa's 37-34 overtime loss). There were a lot of things to create a chip on our shoulder, and get us motivated for this game."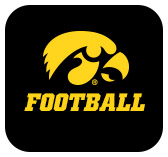 Iowa head coach Kirk Ferentz walked onto the field at Memorial Stadium wearing a stocking cap. That was about as rare as an 11-0 team playing with a chip on their shoulder.
 
"It wasn't premeditated, I can assure you," Ferentz said. "I guess I started having a cold head, I don't know."
 
Ferentz prefers no headgear during games. But with kickoff temperatures at 24 degrees, with a brisk north wind at 13 mph, comfort won out. Thus the stocking cap.
The same stocking cap he threw in protest in the second quarter when Iowa's 7-0 lead was about to disappear.
 
"That's why I don't wear them," Ferentz said.
 
The Iowa coach thought Nebraska should have been whistled for an illegal formation on a 25-yard pass play that took the ball to the Hawkeye 8-yard-line.  His stocking-cap toss earned him an unsportsmanlike conduct penalty, taking the ball to the 4. The Cornhuskers scored on the next play to tie the game. 
 
What's a little drama on the way to an undefeated regular season anyway?
The Hawkeyes would never trail again after defensive end Parker Hesse picked off Tommy Armstrong's pass and returned it four yards for a touchdown with 6:38 remaining in the second quarter.
 
"We were bringing the strong safety (Miles Taylor), and trying to attack them a little bit," Iowa defensive coordinator Phil Parker said. "Hesse was supposed to get up the field. He saw the play. He's a very alert, smart player."
 
Hesse, a former high school quarterback, said the play happened so fast that he had to rely on instinct, not execution.
 
"After the fact it hits you like, 'What did I just do?' " Hesse said. "That was a big play."
 
Nebraska's rushing game was limited to 137 yards on 38 carries, forcing Armstrong to throw 45 times in an attempt to move the ball. Hesse's interception was one of four picks for the Hawkeyes.
 
Iowa had a precarious 14-10 lead at halftime. But two third-quarter plays turned the corner on this undefeated regular season.
 
Desmond King's 26-yard punt return and a personal foul on Nebraska put Iowa in business at the Cornhuskers' 33 on its first possession of the third quarter. On the second play, Jordan Canzeri went around left end for a 29-yard touchdown run.
 
"Hank (Henry Krieger Coble) and I were moving around the side, taking on the defensive end and linebacker," Myers said. "We just see Canzeri screaming through the hole. And I can hear Hank, and he's hollering, and it's unreal. Everyone is running down the field, hands up in the air. It was awesome."
 
Nebraska countered with a touchdown to make it 21-17, and then the Hawkeyes tap-danced past potential disaster. Riley McCarron fumbled the kickoff after a 21-yard return. King, who had fumbled a punt that led to the Cornhuskers' first touchdown of the game, recovered at the Iowa 32.
 
On the next play, Canzeri went around left end for a 68-yard touchdown.
 
"I honestly didn't feel him go by," Myers said. "I started looking for him. I'm thinking, 'Where's he at?' He was down the sideline."
 
Similar plays, identical results.
 
"You try and categorize things as the game goes on," Iowa offensive coordinator and quarterbacks coach Greg Davis said. "Who is blocking well, and what is the defense doing? That was a situation where we got similar looks, and the tight ends and tackles did a great job of giving us the edge. The fullback did a nice job on support."
 
That gave Iowa a 28-17 lead. The Cornhuskers made it a one-possession game on Drew Brown's 42-yard field goal with 1:17 remaining, but Krieger Coble put the bow on the undefeated regular season and a school-record 12th victory by recovering the onside kick.
Ferentz stood in front of his team in the locker room afterwards, and told them "I don't know what to say, I've never been 12-0 before." And then he got emotional.
 
"Whenever you see coach Ferentz get emotional, everyone else gets emotional," Iowa quarterback C.J.Beathard said. "Because you're happy for him and for your team. That's what you play for. That's all that matters to us."
"Every step was enjoyable. So every locker room was fun. The accomplishment that you had to do it 12 straight times certainly was significant. It was emblematic of the fact that the team did a good job from week to week. That's the best way to get there. But actually doing that, that's harder to do than just talk about." — Kirk Ferentz
Parker, an original member of the staff when Ferentz replaced Hayden Fry in 1999, said it was hard not to get caught up in the moment.
 
"This clarified that coach Ferentz is a great coach, and he really knows how to manage the team," Parker said. "This is what he loves to do. As you go, there are always going to be ups and downs over 17 or 18 years. Sometimes you are going to have good seasons, sometimes not so good seasons.
 
"For this to happen at this time, it was a perfect storm. To see his emotion show was emotional for everybody."
 
Tight end George Kittle said he was glad to be part of that locker room huddle.
 
"Coach Ferentz is the greatest coach I've ever played for," Kittle said. "He gets emotional a lot. That's just how he is, because he puts his heart into every single day of practice. He puts his heart into everything. To be able to see him right there, in that moment, and be a part of that, was an incredible thing."
 
Davis also enjoyed the moment.
 
"There were all kinds of emotions we went through before that ballgame," Davis said. "One, we were West Division champs, but we wanted to finish it out right.
After the game, you're happy for Kirk, for the players, how hard they worked, and the hours with (strength coach) Chris Doyle in the offseason. You're happy for the wives, because of the hours they've allowed us (coaches) to do what we love. There's nothing like a winning dressing room. Especially after a special win."
 
Twelve up, 12 down.
"Every step was enjoyable," Ferentz said. "So every locker room was fun. The accomplishment that you had to do it 12 straight times certainly was significant. It was emblematic of the fact that the team did a good job from week to week. That's the best way to get there. But actually doing that, that's harder to do than just talk about."
 
Ferentz had warmed up, and the stocking cap was stuffed into a bag by the time the team left Memorial Stadium and boarded buses for the ride back to Iowa City.
 
"The ride home was great," Ferentz said.
About the Author
Rick Brown is a native of Fort Dodge, Iowa, and a University of Iowa graduate. He covered Iowa athletics for the past four decades for the Des Moines Register prior to his retirement in December.