24 Hawkeyes to Watch 2016-17 | Purchase Single-Game Tickets
IOWA CITY, Iowa — The University of Iowa is reminding fans of several changes at Kinnick Stadium for the upcoming football season. Iowa opens the season with three consecutive home games, starting Sept. 3, against Miami, Ohio (2:30 p.m., ESPNU).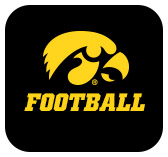 "The UI Athletics Department is putting our loyal and outstanding fans first, as we work to make their experience at Kinnick Stadium as enjoyable and memorable as we can," said Paula Jantz, senior associate director of athletics.
The UI's Fans First program is back for its second season. Customer service staff members wearing lime green shirts will be available in each corner of the Kinnick Stadium concourse, as well as select areas outside the stadium to assist fans with questions and issues that arise on game days.
Let's be Clear about Game Day Safety! To allow for safer and quicker entry into Kinnick Stadium, the UI has adopted a clear bag policy. Only clear bags 12″ x 6″ x 12″ will be allowed into Kinnick Stadium. Clutch bags no larger than 4.5″ x 6.5″ will also be allowed. A complimentary bag check will once again be available in the Recreation Building for items not allowed inside the stadium. A full list of items allowed inside Kinnick Stadium is available at hawkeyesports.com/gameday
Fans are invited to enjoy the atmosphere around Kinnick Stadium. Responsible postgame tailgating will be allowed for all home games except those that start after 6 p.m. (CT).
Fans are encouraged to join the new Hawkeye Tailgate at Krause Family Plaza outside Gate A. In addition to the Hawk Walk, which occurs at 12:30 p.m. this Saturday, two video boards will begin showing the nations pregame shows leading into the first college football games of the day. Beginning at 9:30 a.m. special programming will occur with a D.J., The Hawkeye Radio Network pregame show and the weekly "Hit" video. The Hawkeye Marching Band (HMB) will move their traditional Rec Building show to the Hawkeye Tailgate. The HMB will depart the Jacobson Building at 12:45 p.m., march toward Gate A on Stadium drive and perform from 1- 1:30 p.m. in the plaza.    
The Hawkeye Kids Zone has moved to the new turf football practice fields behind the Hansen Football Performance Complex. Families can enter the Kids Zone from the Southeast on the walkway between the football practice fields and Duane Banks Field. Meet Herky, the spirit squads, run the inflatable obstacle course, get autographs from Hawkeye teams, test their skills in the football combine, and much more will meet kids as they get ready for game day in our family friendly Hawkeye atmosphere. The Hawkeye Kids Zone will be open from 11 a.m. to 1 p.m. this Saturday.
Traffic pattern changes related to the City of Iowa City Gateway project:

Hawkeye Fans will see changes to access into Iowa City via Dubuque Street as the City of Iowa City's Gateway Project is completed over the next two years. Historically, Dubuque Street has offered four lanes of traffic – two lanes in both north-bound and south-bound directions. During the 2016 Iowa football season, fans will see only two lanes of available traffic between Foster Road and Park Road. 
Pregame, Dubuque Street will remain as is under the current Gateway Project configuration, with one lane of traffic in each direction. Fans should be prepared for delays on their way to Kinnick Stadium and plan to arrive earlier this season. Fans entering Iowa City from Interstate 80 are encouraged to use alternate routes, such as Dodge Street (Exit 246) and Coral Ridge Ave/Hwy 6 (Exit 240), as well as ride the Hawkeye Express train, which departs from the Fount Plaza (2441 James Street) in Coralville. First Avenue in Coralville (Exit 242) will continue to experience heavy traffic on home Football game days.
Postgame, Dubuque Street will temporarily convert to a one-way road between Park Road and Foster Road, with two lanes of outbound traffic to accommodate heavy traffic leaving Iowa City. The two lanes of north-bound traffic postgame represent no change from previous seasons.
Additional traffic control staff will be stationed on Dubuque Street both pre- and post-game for as long as traffic patterns dictate.
Project updates are also regularly posted to icgov.org/gatewayproject, as well as the City of Iowa City Facebook and Twitter pages.
Fans wishing to receive updates via e-mail can sign-up for City of Iowa City E-subscription notifications. After you create your online account, be sure to select "Iowa City Gateway Project Updates" under the "Construction and Housing" category to receive e-mails alerts related to the construction schedule and traffic adjustments.
The Iowa City Gateway Project is a flood mitigation effort that will raise Dubuque Street while also lifting and replacing the Park Road Bridge. To learn more visit icgov.org/gatewayproject.

Coach Ferentz's radio show has moved locations. It will now be 6:30-8 p.m. on Wednesday evening at Applebee's in Coralville throughout the season.
Fans are encouraged to visit the new hawkeyesports.com/gameday for answers to questions about home football game days, including parking, tailgating, allowed items, and other information about Kinnick Stadium's fan amenities. Fans are also encouraged to follow @TheIowaHawkeyes on Twitter to get the most up-to-date information on weather, parking availability, etc. If it's happening on game day, you'll see it first by following @TheIowaHawkeyes.
Tickets for Saturday's home opener against Miami (Ohio) still remain, as well as upcoming games against North Dakota State, Northwestern, Wisconsin, and Nebraska. Fans can contact purchase tickets at hawkeyesports.com/tickets or by calling 1-800-IA-HAWKS.