THE MATCH-UP
The University of Iowa soccer team rounds out its homestead this weekend at the Iowa Soccer Complex, hosting Colorado State and SIU-Edwardsville. The Hawkeyes will host the Rams Friday at 7 p.m. (CT) and Cougars on Sunday at 1 p.m. (CT). Admission is free.  
WATCH/FOLLOW LIVE
• Live stats for both contests will be available on hawkeyesports.com.
• Both matches will be streamed live via Hawkeye All-Access on hawkeyesports.com.
• Fans can follow the Iowa soccer program on Twitter (@HawkeyeSoccer) for live game updates.
PROMOTIONS 
• The first 250 fans for Friday's match will receive University of Iowa scarves. The first 100 UI students through the gates will receive free pizza.
• For Sunday's match, the first 150 fans will receive Hawkeye pom poms. Active military, veterans, police, firefighters, and EMS personnel will be recognized during the game. There will also be a postgame autograph session. 
QUICK HITTERS
• Seven different Hawkeyes have scored at least one goal in 2016.  Iowa had eight players score during the 2015 campaign.
• Iowa has started at least five freshmen in every game this season.  The Hawkeyes started six freshmen in two contests.
• Nine freshmen have seen action this season. Devin Burns is tied for the lead in goals scored (two) with senior Bri Toelle. Natalie Winters, Isabella Blackman, and Kaleigh Haus have each scored a goal for Iowa.  
• The Hawkeyes are on a three-game winning streak after defeating Missouri, 2-1, in overtime, Eastern Michigan (1-0), and Wyoming , (3-2). 
• Iowa is tied for third in the Big Ten in goals (nine), points (26), and assists (eight) in its first four games.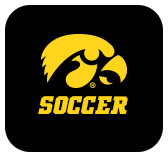 SCOUTING COLORADO STATE
•  The Rams are 2-2-0 this season, posting victories over Denver (2-0) in their season-opener, and defeating SIU Edwardsville (2-1) in their most recent game Aug. 28.
•  Colorado State has scored five goals in its four matches with Kaija Ornes leading the team with two goals and four points.  
•  Three goalkeepers have seen action this season.  The trio has a 1.00 goals against average and 17 saves.  Sydney Hall has a team-leading 0.67 goals against average and she posted a shutout in the Rams' 2-0 shutout victory over Denver.
SCOUTING SOUTHERN ILLINOIS-EDWARDSVILLE
•  The Cougars are 1-2-1 heading into this weekend's action.  SIUE opened the season with a 6-0 victory over Chicago State before battling to a scoreless draw against Kansas State on Aug. 21.  The team has dropped back-to-back road games, falling at Denver and Colorado State by 2-1 margins. SIUE hosts Illinois Chicago on Friday before traveling to Iowa City for a Sunday afternoon contest.
•  Five different Cougars have scored in 2016 with sophomore Avery Anderson leading the team with three goals.  
• Juli Rossi has played every minute in goal, posting a 1.18 goals against average and making 12 saves in 380 minutes.  
THE SERIES
• Iowa and Colorado State will be meeting for the second time in program history.  The Hawkeyes defeated the Rams, 4-0, in Colorado Springs during the 2014 season during Dave DiIanni's first season as Iowa's head coach.
• Iowa and SIU Edwardsville have never met.
RETURNEES BY NUMBERS
• Offensively, the Hawkeyes return 65 percent (13 of 20) of the team's goals from 2015 and 94 percent (15 of 16) of the team's assists. Iowa has three of its four starting defenders returning (Rachele Armand, Karsen Rauch, and Amanda Lulek), but the team's four goalkeepers have a combined 33 minutes of game experience and two saves.
IN GOAL
•  Freshman Claire Graves has played every minute in goal for the Hawkeyes early in the 2016 season.  The Indiana native has faced 53 shots in 365 minutes in goal, where she has made 18 saves – the second-most in the Big Ten.  Graves made a career-high seven saves at Missouri en route to her first career victory.
QUICK HITTERS
• The Hawkeyes return their team Offensive, Defensive, and Newcomer of the Year honorees from the 2015 season.  
• Karly Stuenkel was the team's Offensive MVP after scoring five goals as a sophomore, tying for the team lead.  
•  Redshirt junior Rachele Armand was the Co-Defensive MVP and Team Newcomer of the Year in her first season as a Hawkeye.  The Louisville transfer helped Iowa post six shutouts in 2015.
REDSHIRT RETURNEES
• The Hawkeyes get a boast in terms of returning redshirts in 2016.  Juniors Corey Burns and Natalie Krygier are back after seeing little or no playing time last season.  
• Burns played in three games in 2015 before suffering a season-ending injury, while Krygier missed the entire season because of injury.  Both players started all 20 games in 2014 during Iowa's 14-win season, where it advanced to the Big Ten Tournament title game.
• The Hawkeyes also get back redshirt sophomore Jenna Kentgen, who started seven games in 2015 before suffering a season-ending injury.  The midfielder scored one goal — a game-winner — and tallied an assist in limited action.
FRESHMEN PHENOMS
• Iowa's nine player freshmen class was ranked as the 28th-best recruiting class in the nation by BigSoccer.com.  
• Two freshmen — Natalie Winters and Hannah Drkulec — have national team experience.  Winters has competed in six U18 Women's National Team camps, while Drkulec played on the Croatian Women's National Team in 2015.
TWICE IS NICE
• Senior Bri Toelle notched the first multi-goal game of her career in Iowa's 3-2 come-from-behind victory over Wyoming on Aug. 28.  The Virginia native scored Iowa's first and last goal of the match — the latter of which was the game-winning goal in the 82nd minute.  Toelle is tied for the team lead with two goals early in 2016.
1st TIMERS
• Five Iowa student-athletes — Devin Burns, Isabella Blackman, Kaleigh Haus, Rachele Armand, and Natalie Winters — scored the first goals of their Hawkeye careers during the opening two weekends of the 2016 season.  Burns, Blackman, Haus, and Winters are all freshmen.  Blackman was credited with the game-winning goal in Iowa's 2-1, overtime victory at Missouri on Aug. 21.
• Redshirt sophomore Rose Ripslinger tallied the first point of her career in Iowa's season opener at Creighton.
PUT TO THE TEST
• Iowa won't shy away from the competition during the nonconference season, as the Hawkeyes will face opponents from the Big East (Creighton), SEC (Missouri), Pac-12 (Colorado), and Big 12 (Iowa State).  All four games will be played on the road.
TEAM CAPTAINS
Juniors Rachele Armand and sophomore Aubree Larson are Iowa's team captains for the 2016 season. Larson will miss the entire season because of injury. 
COACHING STAFF CHANGES
The Hawkeyes have two new additions to the coaching staff for the 2016 season in interim assistant coach Nate Castillo and volunteer assistant Chris Early.  Both are UI alums.  Castillo joins the program after serving as a high school assistant coach at City High in Iowa City, while Early was an assistant coach at Northwestern State last season.
ON THE HORIZON
The Hawkeyes will hit the road for a pair of contests, beginning with an Iowa Corn Cy-Hawk Series matchup against Iowa State on Sept. 9 in Ames, Iowa.