HOF 2016: Tyler Cleveland | VIDEO — Dave Haight | HOF 2016: Kimberly Stevens | HOF 2016: Toni Foster | HOF 2016: Gayle Blevins | HOF 2016: T.J. Williams | HOF 2016: Sean McCarty
Editor's Note: The following first appeared in the University of Iowa's Hawk Talk Daily, an e-newsletter that offers a daily look at the Iowa Hawkeyes, delivered free each morning to thousands of fans of the Hawkeyes worldwide. To receive daily news from the Iowa Hawkeyes, sign up HERE.
By DARREN MILLER
hawkeyesports.com
IOWA CITY, Iowa — If not for football, University of Iowa All-American Dave Haight probably would have passed on college.
 
"Up until my freshman or sophomore year (of high school), I wasn't going," Haight said.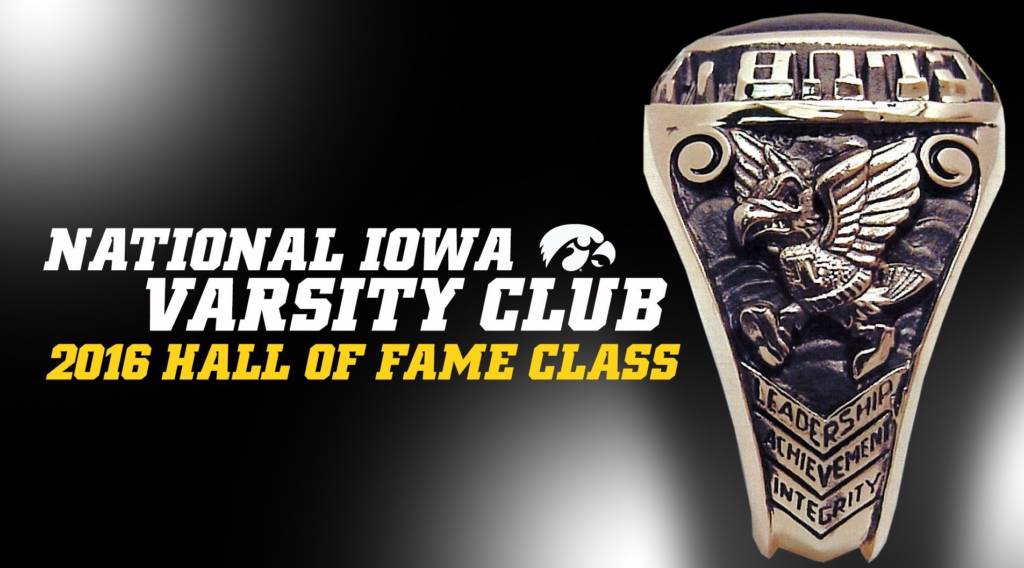 But the 6-foot-4, 230-pound lineman from Dyersville-Beckman (Iowa) High School started terrorizing opponents like his brother Mike did three years earlier. Dave took note when Mike played offensive line for head coach Hayden Fry and the Hawkeyes.
 
"Once football came in and there was an opportunity and seeing what Mike was able to accomplish, I put my mind to it that I wanted to get a college degree," said Dave, who was inducted into the National Iowa Varsity Club Athletics Hall of Fame on Sept. 2.
 
Haight, a nose guard, was a three-time first-team All-Big Ten Conference selection from 1986-88, a two-time All-American (second team in 1987, first team in 1988), and the Big Ten Defensive Lineman of the Year in 1987. The Hawkeyes finished with a record of 35-12 from 1985-88.
 
Haight is 11th on Iowa's all-time tackle chart with 346, the most by a Hawkeye defensive lineman. He compiled 99 as a sophomore, 126 as a junior, and 111 as a senior.
 
"We all worked together," Haight said of the Hawkeye defense. "It's a team sport and I give credit to a lot of the guys that were playing next to me or behind me, and even the offensive guys."
 
Haight redshirted during the 1984 season that was capped by a 55-17 victory over Texas in the Freedom Bowl. He played sparingly as a freshman in 1985 when the Hawkeyes won the Big Ten championship and competed in the Rose Bowl. With Haight as a sophomore in 1986, Iowa went 9-3 and won the Holiday Bowl over San Diego State. During his junior season, the Hawkeyes were 10-3 and defeated Wyoming in the Holiday Bowl. In 1988, Iowa was 6-4-3 and lost to North Carolina State in the Peach Bowl.
 
What sticks out most to Haight during his playing career?
 
"It is the team atmosphere; all your buddies are here playing for coach Fry," he said. "The tradition the University of Iowa brings to the state of Iowa is something to keep your hands on, keep grasp of it, and be part of."
 
In 1985, Mike Haight was named Big Ten Offensive Lineman of the Year and two years later Dave won the league's defensive equivalent.
 
"That is special to me," Dave said.
 
Another highlight for Haight was traveling for conference road games at Wisconsin, Northwestern, Ohio State, Purdue, Michigan State, Michigan, Illinois, Minnesota, and Indiana. From 1985-88, the Hawkeyes were 2-0 at Minnesota, Northwestern, Purdue, and Wisconsin and also won at Michigan State and Ohio State.
 "It is the team atmosphere; all your buddies are here playing for coach Fry. The tradition the University of Iowa brings to the state of Iowa is something to keep your hands on, keep grasp of it, and be part of." — Dave Haight
"A lot of good times and memories with the guys," he said.
 
Following his senior season, Haight joined teammates Marv Cook and Chuck Hartlieb by participating in the Japan Bowl. Four Hawkeyes were drafted in 1989, but Haight was not.
 
"I signed with the San Francisco 49ers, went out for a week-long mini-camp, came back, and did a little thinking," Haight said. "I thought if I wasn't good enough to be drafted, there is a reason for it and time to end it."
 
In 1989, Haight was named to the University of Iowa All-Time Team on the defensive line alongside Alex Karras (1956-57) and Mark Bortz (1979-82).
 
"It was pretty shocking," Haight said. "I was excited and the credit goes to the guys I played with who helped me. It's a family."
 
Haight hasn't returned often to Kinnick Stadium since his playing days ended. He predicts an emotional homecoming.
 
"It will bring back a lot of memories," Haight said. "It will be fun."
 
Haight is a sales representative for Farner-Bocken Company. He and his wife, Dawn, have two daughters, Brandi (26 years old) and Mackenzie (22).