24 Hawkeyes to Watch 2016-17 | Photo Gallery | Box Score (PDF) | Boxscore
IOWA CITY, Iowa — The University of Iowa soccer team scored two goals in the first half and two in the second half to defeat Colorado State, 4-1, on Friday night at the Iowa Soccer Complex.  It was the team's fourth straight win.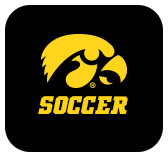 "Going into tonight's game we had a good week of practice," said UI head coach Dave DiIanni. "Being a young team we are still learning what it takes to train at a high level. We had a heavy emphasis on getting better and moving the ball faster, today we did a nice job, our ball movement was good."
 
Junior Karly Stuenkel got the Hawkeyes on the board in the game's 13th minute, converting a cross from freshman Hannah Drkulec to give the team a 1-0 lead.  The Hawkeyes kept the pressure high, and senior Bri Toelle extended the margin to 2-0 with an unassisted strike at the 34:40 mark. 
 
It was Toelle's third goal of the season.
 
"The first goal was set up by Katharine Woodruff, with a great ball in by Hannah, I just happened to see the back post was open and played it," said Stuenkel. "The second goal, I just happened to be there to slide in and get the goal."
 
Colorado State's Janelle Stone scored the Rams' lone goal in the 47th minute early in the second half.  Freshman goalkeeper Claire Graves misplayed a ball near Iowa's goal, and Stone capitalized and scored to cut the lead to 2-1.
 
The Hawkeyes put the game away with a flurry in the 58th minute.  Stuenkel scored her second goal at the 57:02 mark on an assist from sophomore Rose Ripslinger to make the score 3-1.  Ripslinger then followed suit, scoring her first career goal following an assist from freshman Natalie Winters.
 
"This team gets along well," said DiIanni. "They are excited, they like playing and training and the chemistry is good. It's a big weekend, we have SIU-Edwardsville coming up and we have to showcase ourselves and do the right things every day to be successful."
 
The Hawkeyes (4-1-0) return to action Sunday, hosting SIU-Edwardsville at 1 p.m. (CT). Admission is free.