24 Hawkeyes to Watch 2016-17 | Box Score (PDF)
 Editor's Note: The following first appeared in the University of Iowa's Hawk Talk Daily, an e-newsletter that offers a daily look at the Iowa Hawkeyes, delivered free each morning to thousands of fans of the Hawkeyes worldwide. To receive daily news from the Iowa Hawkeyes, sign up HERE.
By DARREN MILLER
hawkeyesports.com
IOWA CITY, Iowa — Anthony Nelson knew he would see action in yesterday's home-opening 45-21 victory over Miami (Ohio) in Kinnick Stadium. But he didn't know how soon, how much, or how effective he would be.
 
The redshirt freshman defensive end from Waukee, Iowa, was part of a three-man rotation that included sophomores Matt Nelson and Parker Hesse. When Hesse left the game after a 28-yard fumble return early in the first quarter, the rotation became — as head coach Kirk Ferentz eluded to Tuesday — the Nelson & Nelson Law Firm.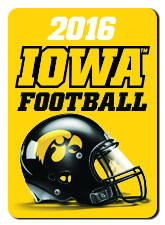 Matt played in 13 games last season while Anthony redshirted.
 
"Pretty good game for his first one; good job for him," Matt said of Anthony. "We're all trying to get out there and make plays. It's a friendly competition between the three of us to see who can play better. It helps us improve."
 
Anthony, whose father, Jeff, lettered for the Hawkeyes from 1990-92, had an impressive opening line with six tackles, 2 ½ quarterback sacks, and two forced fumbles.
 
"You like to think a guy's going to improve as he gets older and keeps going, but what he did (Saturday) is what he does in practice," UI head coach Kirk Ferentz said. "He's a good football player and I thought he made a nice account of himself."
 
Prior to Saturday, the last time Anthony played in an actual game was Waukee's Class 4A semifinal playoff in 2014. He understandably experienced a few jitters Friday evening and Saturday morning before kickoff.
 
"Being able to get out there was a big relief for me and to get that anxiety off my chest," Anthony said. "I knew I would be nervous, but after that, it felt like I was taking reps in practice and I was falling back on the things I have repeated a ton of times in practice. It didn't feel rushed and I was more comfortable after the first few plays."
 
Anthony made it a long afternoon for Billy Bahl, sending the Miami (Ohio) quarterback backward 16 yards on the sacks. Anthony also added a pass break-up. Two plays after his first forced fumble, Iowa took a 21-0 lead; five plays after his second forced fumble, the Hawkeyes scored their sixth and final touchdown of the afternoon.
 
"Anthony Nelson is a very versatile athlete," UI senior cornerback Desmond King said. "He is long, fast off the corner, and he knows how to use his hands. It showed (Saturday) what sort of player he is and the ability he has and the affect he can have on a game. That's the kind of player we want on our defense."
 
Iowa sustained a blow on the sixth play of the game when captain and leading tackler Josey Jewell was ejected for targeting on a punt return. The Hawkeyes allowed 424 yards of offense and the three Redhawk scoring drives covered 75, 75, and 74 yards.
 
"I was happy that I was able to play well enough to help the team get a win, but like the rest of the defensive line, I have a lot of things to get better at," Anthony said. "As a defense, we don't want to give up long drives and big plays, but we have room to grow. We got a win today, so that's good."
 
And the outcome was never in doubt after Iowa roared to a 21-0 lead after 10 minutes for their 15th season opening win in the last 16 seasons. The Hawkeyes go for their 14th consecutive regular season victory Sept. 10 when they host Iowa State at Kinnick Stadium with a 6:30 p.m. (CT) start. The game is sold out.