24 Hawkeyes to Watch 2016-17 | Hawkeyes in the NFL | Photo Gallery | Iowa-Miami (Ohio) Recap
 
By RICK BROWN
hawkeyesports.com
 
IOWA CITY, Iowa — Akrum Wadley is trying to ditch his go-to spin move.
 
"You never know who is going to be on the other side of the spin," Wadley said after rushing for 121 yards and two touchdowns in No. 15/17 Iowa's 45-21 victory over Miami (Ohio) in the season opener Saturday at Kinnick Stadium.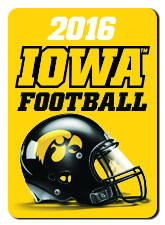 Wadley spun his way to all-state stardom at Weequahic High School in Newark, N.J., but turning your back on defenders is a dangerous move with the speed and strength of the college game.
 
"He uses it a little less than he used to," said UI head coach Kirk Ferentz. "That's progress."
 
Wadley, a junior, had his fourth career 100-yard game Saturday, and some of them were hard-earned yards between the tackles. Ferentz points to Wadley's improved strength and maturity for his ability to have success inside.
 
"One thing young runners try to do is bounce everything outside," Ferentz said. "A lot of times you can get away with that in high school. It's a little tougher here because guys close faster. He has learned how to play better and he certainly did a good job with ball security (Saturday)."
 
It was Wadley's penchant for fumbling that kept him off the field earlier in his career. His speed has never been in question.
 
"I was able to gain a few pounds over the offseason," said Wadley, now listed at 191 pounds on his 5-foot-11 frame. "I'll be able to take some pounding. Especially with LeShun (Daniels, Jr.) splitting the carries and that line we're running behind. That makes it easier."
 
Wadley averaged 10.1 yards on each of his 12 carries. Daniels, a 225-pound senior, finished with 83 yards in 10 carries and also scored two touchdowns. The Daniels-Wadley tandem is something Ferentz plans to stay with moving ahead.
 
"Both guys have practiced well," Ferentz said. "The whole running back group practiced well this preseason. They seem to complement each other well (Saturday). If we can continue to keep some balance there, I think that would be good for both guys."
 
Daniels is more of a power back than Wadley, but he has speed as well. He scored Iowa's third touchdown of the first quarter on a 43-yard run around the right end.
 
"We do a pretty good job of complementing each other," Daniels, Jr., said. "Whenever one of us goes and makes a play, we can have a fresh guy come in."
 
Daniels, Jr., doesn't use a spin move. He would rather run over a defender. Sometimes Wadley's spins make him cringe.
 
"Oh my goodness," Daniels said. "But he makes it work for him. He makes a lot of guys miss. I don't really critique him much, as long as it's working."
 
Daniels' 43-yard burst was on a play actually called for Wadley, who was supposed to be in the game. But Wadley was late checking in and returned to the sidelines.
 
"It wasn't even supposed to be me," Daniels said. "But we were already up to the line of scrimmage (when Wadley tried to check-in), so it was too late. I knew I had to go make a play."
 
Among those leading interference on the play was Daniels' brother, James, the starting center, who had a block as LeShun turned the corner. Saturday marked the first time brothers started for the Hawkeyes in the same game since defensive backs Kent and Kevin Ellis in 1980.
 
Wadley's first touchdown of the game — an 11-yard run around left end in the opening quarter — saw him begin to high-step his way to the end zone until a defender started to close in. He kicked it into gear to get the touchdown.
 
"Jerminic (Smith) had the corner sealed and I got a little cute," Wadley said. "I had a little high-step going. He must have got off the block."
When Wadley ran to the sideline, offensive line coach and run-game coordinator Brian Ferentz was waiting.
 
"Coach Brian told me, 'Don't do that any more,' " Wadley said. "I don't think he was feeling it. He said, 'Good run, but look, we don't need that. Act like you've been there.'"
 
Wadley also had three catches for 21 yards, one was for 12 yards. It's another way to get him in space, and use his speed to help the offense.
 
Wadley's longest run of the game, a 38-yarder in the fourth quarter, came even though Miami (Ohio) had 12 defenders on the field. He stayed upright even though Iowa fullback Drake Kulick ran into him and knocked off one of his shoes.
 
"I knew if anyone came close I was going to get down," Wadley said. "I can't afford an ankle injury."
About the Author
Rick Brown is a native of Fort Dodge, Iowa, and a University of Iowa graduate. He covered Iowa athletics for the past four decades for the Des Moines Register prior to his retirement in December.