24 Hawkeyes to Watch 2016-17 | Photo Gallery | Box Score (PDF) | Boxscore
IOWA CITY, Iowa – The University of Iowa soccer team scored five goals — the most in a game since 2012 — in a 5-1 rout of SIU Edwardsville on Sunday afternoon at the Iowa Soccer Complex.  The Hawkeyes have won five straight, the program's longest winning streak since 2013.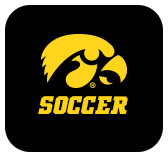 "We are making progress in the final third and creating opportunities," said UI head coach Dave DiIanni. "For us, a lot of it starts with our ball movement and creating a lot of chances off of our defensive presence."
 
Sophomore Jenna Kentgen got the momentum moving for the Hawkeyes, scoring in the fourth minute to give Iowa a 1-0 lead.  Freshman Natalie Winters sent the ball in via a corner kick and Kentgen fired it home for her first goal of the season.
 
The Hawkeyes pushed their lead to 3-0, scoring twice within a little more than a three-minute span. Senior Amanda Lulek connected with junior Karly Stuenkel at the 11:45 mark before Stuenkel assisted on senior Bri Toelle's strike at the 14:52 mark. Toelle and Stuenkel are leading the team with four goals this season.
 
The Cougars avoided the shutout, finding the back of the net in the 75th minute when Becca Jostes scored following an assist from Avery Anderson. 
 
It awoke the Hawkeyes, who followed with two goals in a 1:34 stretch.
 
Sophomore Morgan Kemerling netted her first career goal in the 75th minute to make the score 4-1.  Toelle and senior Tory Harman were credited with assists.  Sophomore Rose Ripslinger followed with her second goal in as many games following assists from junior Madeline Crowdy and Winters.
 
"Anytime you can score nine goals in two games against two good opponents, you have to feel good about yourself," said DiIanni. "We are creating a lot of opportunities."
 
Iowa finished the match with a 27-8 advantage in shots, including a 15-5 advantage in shots on goal.  Freshman Claire Graves earned the win, making three saves before turning over the reins to sophomore Emma Rigby for the final 12:09.
 
The Hawkeyes return to action Sept. 9, traveling to Ames, Iowa, for an Iowa Corn Cy-Hawk Series matchup at Iowa State.