Hawkeye Fan Shop — A Black & Gold Store | 24 Hawkeyes to Watch 2016-17 | Hawkeyes in the NFL
 
By CHRIS BREWER
hawkeyesports.com 
IOWA CITY, Iowa — University of Iowa offensive coordinator Greg Davis saw what a lot of Hawkeye fans saw in the season opener. The offense played clean, the defense forced turnovers, and there is still plenty of room for improvement.
 
"The first thing I liked is that we came out ready to play," Davis said Wednesday, four days after Iowa won its season opener and three days before Iowa State visits Kinnick Stadium. "You always worry about the opener. You're coming out of camp, you've been playing against yourselves over and over, you think you have an idea of how your team is going to play but you're never sure.  I thought we came out and played well, especially early."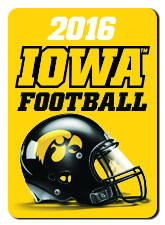 Iowa scored touchdowns on its first three possessions. The first and third came on 80-yard drives that ended in LeShun Daniels, Jr., touchdowns. The second was a touchdown by Akrum Wadley on a drive that started at the Miami 12-yard line.
 
"The defense got some turnovers and gave us some short fields that we were able to take advantage of that was a positive," Davis said.
 
Quarterback C.J. Beathard was perfect in six attempts on Iowa's first three touchdown drives. He completed his first eight passes before he threw an incompletion, and he passed for 151 yards before halftime.
 
Davis said the fifth-year senior came out prepared after a "really good camp" and executed the game plan like you'd expect from a returning second-team All-Big Ten quarterback.
 
"A lot of the little swing passes to (Matt VandeBerg) were run-pass options," Davis said. "He looked at the defense and knew we had an advantage outside.  He's smart with the football and he'll continue to grow.  We're constantly talking about ball placement and ability for guys to run after the catch if you give them a good ball.  His leadership is also important, not just what he does at the line of scrimmage, but what he does on the sideline and the in locker room.  That's the maturity of a fifth-year player."
 
Beathard also benefited from playing with a healthy backfield. Daniels and Wadley combined for 204 yards rushing and four touchdowns.
 
"LeShun went into season, for the first time since he was a freshman, totally healthy, so that was exciting," Davis said. "The long run, not only did he show some speed, but he had good vision and was able to run away from people.
 
"Akrum continues to impress me.  If we can get him in space or in one-on-one situations, the advantage goes to us because he is quick and his lateral movement is exceptional.  Those two played like we thought they would and they need to continue to do that."
 
The Hawkeyes' next test is the Iowa Corn Cy-Hawk Series on Saturday at 6:42 p.m. (CT). Iowa State enters the game 0-1 following a 25-20 home loss to Northern Iowa. The Panthers rushed for 232 yards and threw for 135 yards against a Cyclone defense that was adjusting to a new coaching staff.
"They do have a new coach, so we looked at a lot of Toledo film and their game last weekend," Davis said. "You're not sure how much of the Toledo stuff will be employed in their second game, but you have to prepare for it.  They're playing hard and it's always a great ballgame.  We look for them to come in here and play lights out."
 
The game is sold out. Fans are encouraged to arrive early to Kinnick Stadium and to expect traffic dealys in and around Iowa City.