ISU Invite women's Results | ISU Invite Men's Results
By JACK ROSSI
IOWA CITY, Iowa — The University of Iowa Men's Cross Country team placed first at the Illinois State Invitational on Friday night in Normal, Illinois.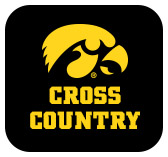 Juniors Ben Anderson (25:12.4) and Michael Melchert (25:23.6) led the way for the Hawkeyes, placing second and fourth, respectively, in the men's 8,000-meters to give the Iowa men the victory with 44 points.
"Overall I was pleased with the effort of both squads," UI head coach Randy Hasenbank said. "We wanted to be patient with our first 8K of the season. The plan was to get to the 4K with a lot of energy and the guys executed that. They ran the back half of the race really well.
I was happy with Ben, he is working very hard and putting in a lot of work. He nearly got the win and I thought he raced with a lot of confidence."
Iowa placed two runners in the top 10 and five runners in the top 15 with sophomore Daniel Soto (25:40.5) in 11th, freshman Nathan Mylenek (25:44.7) in 13th, and sophomore Ian Eklin (25:45.3) finishing in 14th place to lead the underclassmen charge.
The Iowa women continued their strong season, placing second as a team with 57 points in the 5,000-meters. Individually, senior Tess Wilberding placed second with a time of 17:48.8 and sophomore Madison Waymire finished in third place, clocking in a time of 17:56.  Sophomore Andrea Shine recorded a personal best 18:08.2 to place in eighth, besting her previous time by 13 seconds.
"Tess, Madison and Andi did a nice job running at the front of the field, all three looked confident and in control," Hasenbank said. "They competed well and that was the goal, compete."
For the second straight race Wilberding and Waymire have placed in the top three.
Making their 5K and 8K debuts were Claire Dupuis (18:36.4), Julie Hollensbe (18:53.3), Maria Eastman (19:23), Hunter Koenigsfeld (19:50.3), Macie Weber (20:03.6), and Lauren Gibbs (20:17.9) for the women and Mylenek, Brandon Cooley (26:07.6), Michael Westphal (26:36.9), Karson Sommer (27:13.6), Patrick Karanja (27:20.5), Derek Meeks (27:40.7), and Dylan Ponomar (28:45.1) for the men.
The Hawkeyes take a couple weeks off before traveling north to Minneapolis for the Roy Griak Invitational on Sept. 24.