Hawkeye Fan Shop — A Black & Gold Store | 24 Hawkeyes to Watch 2016-17 | Hawk Talk Monthly — September | VIDEO — Dave Haight Honorary Captain
By DARREN MILLER
hawkeyesports.com
IOWA CITY, Iowa — Until Saturday, the last time Dave Haight was on the Kinnick Stadium playing field for back-to-back Saturdays was Nov. 5 and 12, 1988.
 
He will make it two weeks in a row again Sept. 10 when the Hawkeyes host Iowa State in the Iowa Corn Cy-Hawk Series.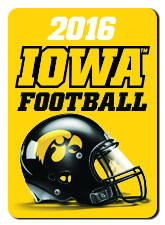 Haight was inducted into the National Iowa Varsity Club Athletic Hall of Fame a week ago; on Saturday he will serve as honorary captain for the Hawkeye football team.
 
"Walking into the stadium was exciting last week," Haight said. "The best part was I had my parents with me and my brother was able to attend. It brought back a lot of memories.
 
"This week, coming back for the Iowa-Iowa State game, it's going to be an incredible atmosphere. For the state of Iowa, this big game is what it's all about."
 
In Haight's five seasons with the football program, the Hawkeyes went 5-0 against Iowa State, winning by scores 59-21, 57-3, 43-7, 48-9, and 10-3.
 
"All I remember about those games is we beat them five years in a row, so that is great," Haight said. "They are always ready to play and they play hard. They will come over here ready to go. We have to take it to them right away and set the tone."
 
Haight, a nose guard, was a three-time first-team All-Big Ten Conference selection from 1986-88, a two-time All-American (second team in 1987, first team in 1988), and the Big Ten Defensive Lineman of the Year in 1987. The Hawkeyes finished with a record of 35-12 from 1985-88.
His positon coach at Iowa was last week's honorary captain, Dan McCarney. And every day at practice, Haight would battle Hawkeye offensive linemen coached by Kirk Ferentz.
 
Haight toured Iowa's shiny facilities Friday prior to speaking to the Hawkeyes in the team auditorium of the Stew and LeNore Hansen Football Performance Center.  He called the facilities as impressive as the personnel that comprises the current Hawkeye football staff.
 
"The facilities are incredible and everything here is top-notch from the coaching staff all the way down to the trainers and managers," Haight said. "They recruit class athletes and that's why the program is successful."
 
It has been 28 years since Haight was a student-athlete at the UI and many memories returned  Friday.
 
"I walk in here and I feel like I'm part of the program and never missed a beat," Haight said. "It is a great tradition."
 
Haight will accompany Iowa's captains to midfield for Saturday's pregame coin toss. He will also be with the Hawkeyes in the locker room before and after the game.
 
So, how did Haight in the Hawkeyes do in those back-to-back games in 1988? They rolled Northwestern, 35-10, and tied Ohio State, 24-24.