24 Hawkeyes to Watch 2016-17 – /sports/2016/7/20/24-hawkeyes-to-watch-2016-17.aspx | Box Score (PDF) | Photo Gallery | Boxscore
AMES, Iowa – Freshman Olivia Fiegel's first career goal in the 66th minute propelled the University of Iowa soccer team to a 2-0 victory over in-state rival Iowa State in an Iowa Corn Cy-Hawk Series matchup on Friday night at the Cyclone Sports Complex.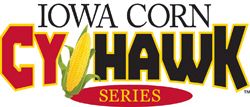 "Anytime you play in a rivalry game and both schools are located in the same state it's a lot of fun," said UI head coach Dave DiIanni. "Both teams came into game playing their best soccer, and both teams did a good job of playing the style that they wanted to play."
 
The triumph was the Hawkeyes' sixth straight this season, improving the team's record to 6-1-0.  Iowa has won two straight meetings over Iowa State and eight of the last nine encounters.
 
After a scoreless first half, Fiegel's unassisted goal from eight yards out gave Iowa control of the match. The strike was Fiegel's first career goal.
 
Senior Bri Toelle provided Iowa an insurance goal, scoring her fifth goal of the season in the 75th minute.  Toelle fired a strike from 25 yards out to beat Cyclone goalkeeper Lindsey Hendon to give Iowa a 2-0 lead.  Toelle's team leading five goals ties her career high output from last season.  
 
The Hawkeye defense held the Cyclones at bay for 90 minutes, leading Iowa to the shutout. Both teams attempted 17 shots in the game, but Iowa freshman goalkeeper Claire Graves made three saves to post her second shutout of the season.
 
"The game was up and down in tempo, but we payed attention to detail and played well defensively, it's the first time we have shutout an opponent in a while."
 
Iowa (6-1-0) returns to action Sunday, facing Colorado in Boulder at noon (CT).