24 Hawkeyes to Watch 2016-17 | Photo Gallery | Box Score (PDF) | Video Highlights
 Editor's Note: The following first appeared in the University of Iowa's Hawk Talk Daily, an e-newsletter that offers a daily look at the Iowa Hawkeyes, delivered free each morning to thousands of fans of the Hawkeyes worldwide. To receive daily news from the Iowa Hawkeyes, sign up HERE.
By DARREN MILLER
hawkeyesports.com
IOWA CITY, Iowa — Iowa's defense proved a point last night, seven days after allowing 424 yards to Miami (Ohio), albeit in a 45-21 victory.
 
But with a Big 12 program coming into Kinnick Stadium and the visiting team having won the last four meetings in the Iowa Corn Cy-Hawk Series, there was reason for at least a little apprehension. That anxiety didn't last long as the Hawkeyes set the tone early on both sides of the ball and thumped Iowa State, 42-3.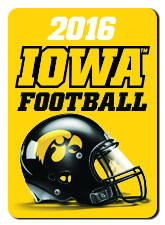 After the first two drives, Iowa's defense limited the Cyclones to eight yards (none through the air) and 52 seconds of possession time. Meanwhile, the Hawkeyes scored on four of five first-half possessions.
 
"Those first two (three-and-outs) were big for our defense, but it gave our offense momentum as well," said UI senior defensive tackle Jaleel Johnson, who had a career-high seven tackles. "That gives everybody motivation to want to go and keep playing hard."
 
Iowa State trailed 14-0 and was still searching for its initial first down when its third drive began. The Cyclones made it to Iowa's 4-yard line before Johnson sacked Iowa State quarterback Joel Lanning for a 6-yard loss. On the next snap, Hawkeye freshman Anthony Nelson dumped Lanning for a 4-yard loss and the Cyclones settled for a 31-yard field goal.
 
Iowa State was shut out over the next 45 minutes, 32 seconds and never advanced further than Iowa's 36-yard line.
 
"Our tempo was better tonight; we were a little more aggressive," UI head coach Kirk Ferentz said. "The guys were really hustling to the ball and it looked like a better team defensive effort for sure."
 
One of those "guys" was junior middle linebacker Josey Jewell. Jewell played just six snaps against Miami (Ohio) before being ejected for targeting. He made up for lost playing time against the Cyclones with a game-high nine tackles.
 
"A lot of other guys got a lot better with small detail stuff," Jewell said. "You're going to get better after the first game. You want to improve every game."
 
Iowa's defense forced four negative yardage plays in the first half; a half that ended with a third sack of Lanning, this one by sophomore defensive end Matt Nelson.
 
The Cyclones' leading rusher at halftime was their quarterback with 18 yards and a 1.8 per carry average; their punter had as many kicks as All-Big 12 receiver Allen Lazard had receptions (three).  And Cyclone running back Mike Warren, who rushed for more than 1,300 yards last season, was held to 28 yards on seven attempts.
 
"We had areas last week we thought were loose and we gave up big plays on the defensive side," UI senior cornerback Desmond King said. "We were going to correct those. It showed out there only giving up three points defensively and I felt we accomplished a goal."
 
UI junior linebacker Ben Niemann put an exclamation point on the evening by intercepting Lanning with 1:50 left in the third quarter. At that point, the Hawkeyes led, 35-3, and Iowa State had 148 yards of offense.
 
The Hawkeyes have now won 14 consecutive regular season games and nine straight inside Kinnick Stadium. They host North Dakota State on Sept. 17 with an 11 a.m. (CT) kickoff. The Bison have won the last five Football Championship Subdivision titles.