24 Hawkeyes to Watch 2016-17 | Hawk Talk Monthly — September 2016 | Sept. 11 Conversation | Matt VandeBerg Feature | Getting Defensive | Iowa 42, Iowa State 3 (Recap)
By DARREN MILLER
hawkeyesports.com
IOWA CITY, Iowa — The improvement shown by the University of Iowa football team from a victory against Miami (Ohio) on Sept. 3 to a blowout win against Iowa State on Sept. 10 can be traced to an impressive week of preparation.
 
UI head coach Kirk Ferentz hasn't been disappointed with how his players have readied themselves in the past, it's just that with actual game film to study, the Hawkeyes picked it up a notch during game week.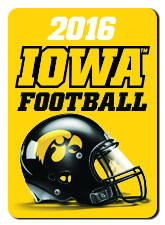 "Our biggest focus at the start of last week was getting our guys to recognize the importance of practice and preparation," Ferentz said Sunday during an exclusive interview with hawkeyesports.com. "It's not that they haven't been focused before, but we felt after having a game on film and to learn from it was imperative that we do some things better."
 
It showed during a 42-3 win over Iowa State in the Iowa Corn Cy-Hawk Series. The Hawkeyes gained 435 yards (237 passing, 198 rushing) and allowed 291 — or 133 fewer than they did in the season opener.
 
"I can't say enough about the effort the guys put into practice last week," Ferentz said. "It wasn't a perfect week, but they did a good job working at it. Certainly some improvement showed up on the game field."
 
Sophomore Lucas LeGrand made his first start at center and sophomore Keegan Render played significant minutes at guard when junior Sean Welsh left the game with a minor sprain.
 
"These experiences are going to help our team down the road," Ferentz said. "In the fourth quarter we got a lot of guys on the field and that's important, too."
 
Ferentz said Welsh is expected to be ready when the Hawkeyes take on North Dakota State on Sept. 17. He is hopeful that sophomore defensive end Parker Hesse will also return and said sophomore offensive lineman James Daniels "has a chance this week," although a more realistic return would be Sept. 24 at Rutgers.
 
As for North Dakota State, the Bison are five-time (as in five years in a row) Football Championship Subdivision champions. They enter Saturday's game with a 2-0 record and wins against FCS No. 6 Charleston Southern (24-17 in overtime) and FCS No. 8 Eastern Washington (50-44 in overtime). The Bison have won five in a row against FBS teams — Kansas (2010), Minnesota (2011), Colorado State (2012), Kansas State (2013), and Iowa State (2014).
 
On Saturday, FCS member Illinois State defeated Northwestern, 9-7, in Evanston, Illinois. Last season Iowa opened the season with a 31-14 win over Illinois State.  
 
"The way it has gotten in college football the last 10 years, there is a lot of parity and even playing fields," Ferentz said. "North Dakota State takes a back seat to no one. You're talking about a team that is accustomed to winning and they understand what it takes. They have good players and are well-coached — this will be a strong team and a strong opponent."
 
The Hawkeyes are 2-0 for the third year in a row. They have won 14 straight regular-season games and nine in a row inside Kinnick Stadium.
 
"Any good team takes pride in doing things right and having success in Kinnick is important to us," Ferentz said. "Nine sounds good — the last streak was 22, so we have a lot of work in front of us. It is something to shoot for and take pride in. Our fans enjoy it when we play well and we feed off each other a little bit. It's good to be in Kinnick, but we want it to be special and we want to make it tough on our opponents to come in there."
 
A limited number of tickets remain for Saturday's contest after the Hawkeyes played in front of a full house against Iowa State (70,585). Kickoff is set for 11 a.m. (CT) and the game will be televised by ESPN2.